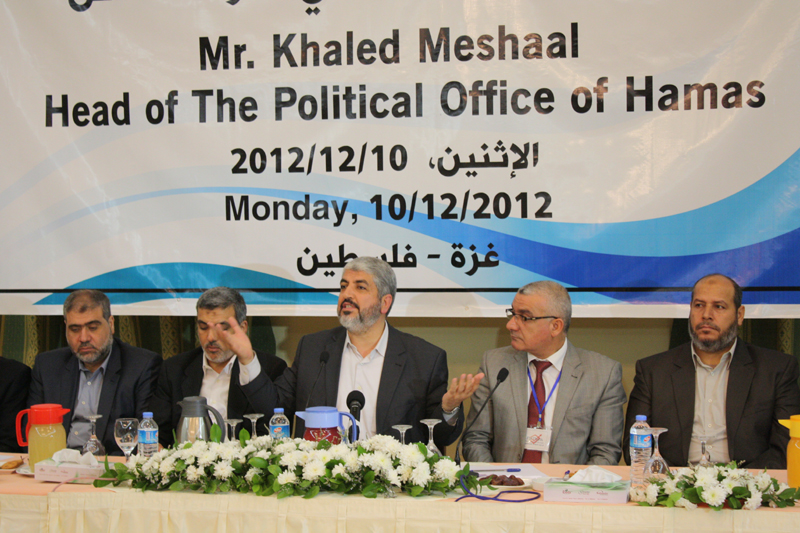 [highlight]Gaza, Monday 10 December 2012[/highlight]
In a special event, Palthink for Strategic Studies hosted Mr. Khaled Meshaal, the head of political bureau of Hamas. This special event was attended by 250 persons represents all community segments of the Gaza Strip. The session was a unique platform for Mr. Meshaal to address and hear from the Non- Hamas people mainly; judges, civil society actors, leaders of Christian  community in Gaza, youth and  women activists, farmers, unemployed people and business people … etc.
In his Speech, Mr. Meshaal tackled several strategic issues such as; Hamas election, Arab spring, truce and cease  fire with Israel, reconciliation with PA, the two state solution, Hamas and international community , Hamas movement and Hamas government and the performance of Hamas government, holding Hamas government into accountability and some other key issues.
The special event was attended, in addition to Mr. Meshaal by Mr. Ismail Hanyia, the Gaza prime minster and many members of the political bureau of Hamas which indicated the high significance of the session.
[gn_note color="#fdeec7″]
Palthink for Strategic Studies is an independent non-profit, non-political, non-governmental and non-sectarian think and do tank that aims to stimulate and inspire rational public discussions and around core issues that concern the Palestinians and the Region. It gives a clear platform for constructive debate and abundant research regarding the Palestinian and regional issues.  Pal-Think was established in 2007 in Gaza-Palestine by a group of Palestinian researchers and community activists who have intimate relations and diverse knowledge of the Middle East, its current problems, potentials and possibilities.
[/gn_note]