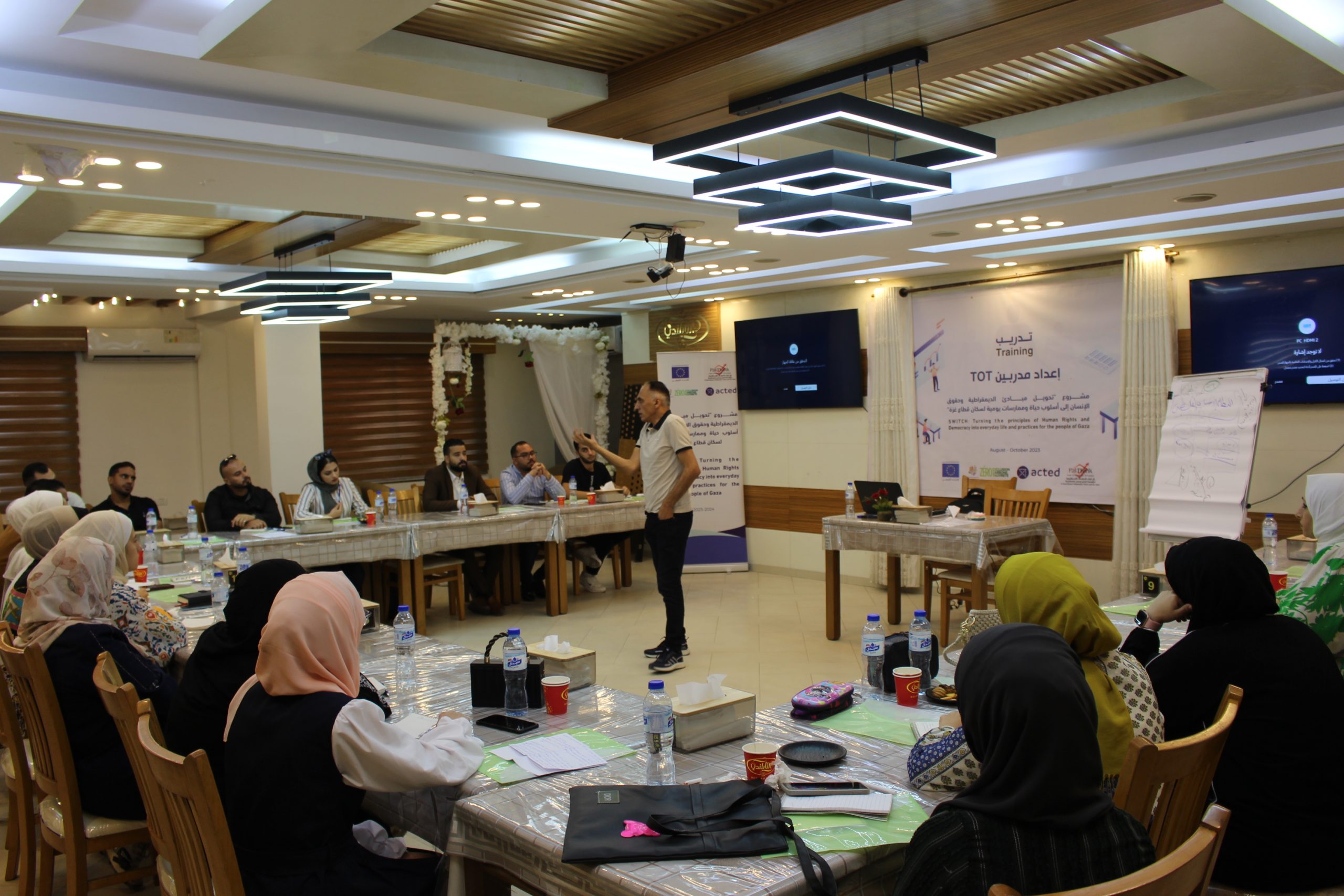 Gaza – PalThink for Strategic Studies has launched the third ToT course within the "SWITCH: Turning the Principles of Human Rights and Democracy into Everyday Life and Practices for the People of Gaza" project, implemented in collaboration with Acted and Convergences, and funded by the European Union.
Director of PalThink, Omar Shaban, attended the first session of the training to welcome the participants. He emphasized PalThink's interest in the Palestinian youth, stating that they are the most capable of creating change, especially given that Palestinian society is youthful in nature.
He added that "this training is part of a series of activities and projects carried out by PalThink in collaboration with local and international partners to spread and enhance the culture of democracy, dialogue, peaceful conflict resolution, youth empowerment, and skill development."
Shaban presented the project's idea and goal, which aims to enhance the capacities of human rights advocates, change-makers, and civil society leaders by equipping them with the necessary information and skills to monitor and document the situation of human rights in society.
The project also aims to develop the capacities of traditional and new media institutions in promoting human rights.
The training program provides a substantial dose of essential skills and knowledge that enable recipients to implement community initiatives.
This includes concepts of human rights from a legal perspective and its evolution, democracy concepts, global democratic indicators, gender equality, hate speech, democracy, and political participation of youth, the Palestinian political system, political decision-making skills, new and traditional media in promoting human rights culture, presentation skills, and public speaking.
The project has already trained 40 young men and women through two 10-day training courses. After the 20 participants are trained, they will transfer the skills and knowledge they have acquired to their peers and communities by implementing community initiatives and conducting awareness-raising sessions in collaboration with partner CSOs in various areas and governorates of the Gaza Strip.