Youth
Training course entitled "Advocacy Campaign Mechanisms"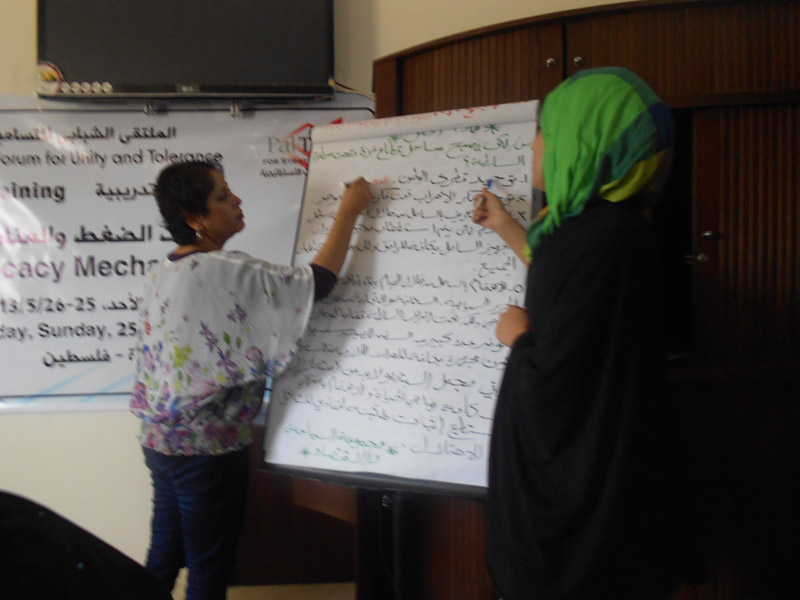 In cooperation with the labor resource center (LRC), The Youth Form For Unity and Tolerance in Pal-Think For Strategic Studies conducted a training course entitled "advocacy campaign mechanisms", the course lasted for two days and consisted of 12 training hours. 18 participants were in attendance including youth activists, union's activists and university students of both genders and from all of the Gaza strip's provinces.
Mr. Fayes Elomari the head of LRC started the first session welcoming the participants and wishing them to avail tremendously from the course, which aims at giving them the means that would help them raise their voices and deliver their messages to the decision makers.
The trainer Layla Baiomi highlighted during the course the perspective of advocacy and how to build coalitions and to network with partners, addressing the role of media, and explaining how to deal with the potential foes.
At the end of the course, Pal-think and LRC awarded the participants with certificates for their achievements during the course in a small celebration. Mr. Abdelqader Abu Mohadi attended as a representative of LRC, in addition to Mr. Ibrahem El Ghandour from Pal-think and Mr. Abdelrazaq Harara from The Independent Labor Committees Union.
One of the participants gave a speech thanking The Youth Form For Unity And Tolerance and LRC for such initiatives, hoping that a series of similar courses are yet to come.
This course was been implemented as part of a project entitled "toward better application of good governance practices, human rights, women rights and enhance the culture of tolerance" that is being implemented by Pal-think in cooperation with LRC.