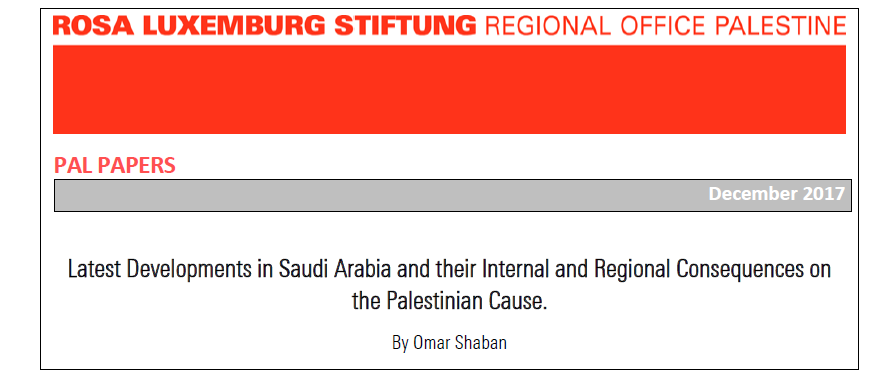 Rosa Luxemburg Stiftung 
By Omar Shaban
First: the crisis developments
The region is living in a state of suspension and anticipation due to the steady, political changes and developments Saudi Arabia has undergone since King Salman assumed the throne. There is an attempt to rebuild the political system in the kingdom to ensure the establishment of the Emir and the rising crown Prince, Mohammed bin Salman's role. Besides, the regime has made huge and successive changes; all of them are mostly directed towards the focus of security, economic, and religious power in the hands of the newly appointed crown prince.
At both political and security levels, Prince Mohammed bin Salman was appointed Defense Minister as soon as his father took over.
Subsequently, the former Crown Prince, Prince Mohammed bin Nayef, was removed from the Covenant and from the leadership of the Interior Ministry. Finally, Prince Mutaib bin Abdul Aziz was dismissed from the presidency of the National Guard since he was a possible rival of Mohammed bin Salman on the crown prince, who thus dominated the leadership of the main security institutions in the kingdom: the army, the National Guard, and the Interior, without rivaling influential princess from the ruling family.
Read Full Paper:
[button color="red" size="medium" link="http://www.rosaluxemburg.ps/wp-content/uploads/2017/12/Latest-Developments-in-Saudi-Arabia.pdf" icon="fa-file-pdf-o" target="false" nofollow="false"]Download Pdf[/button]