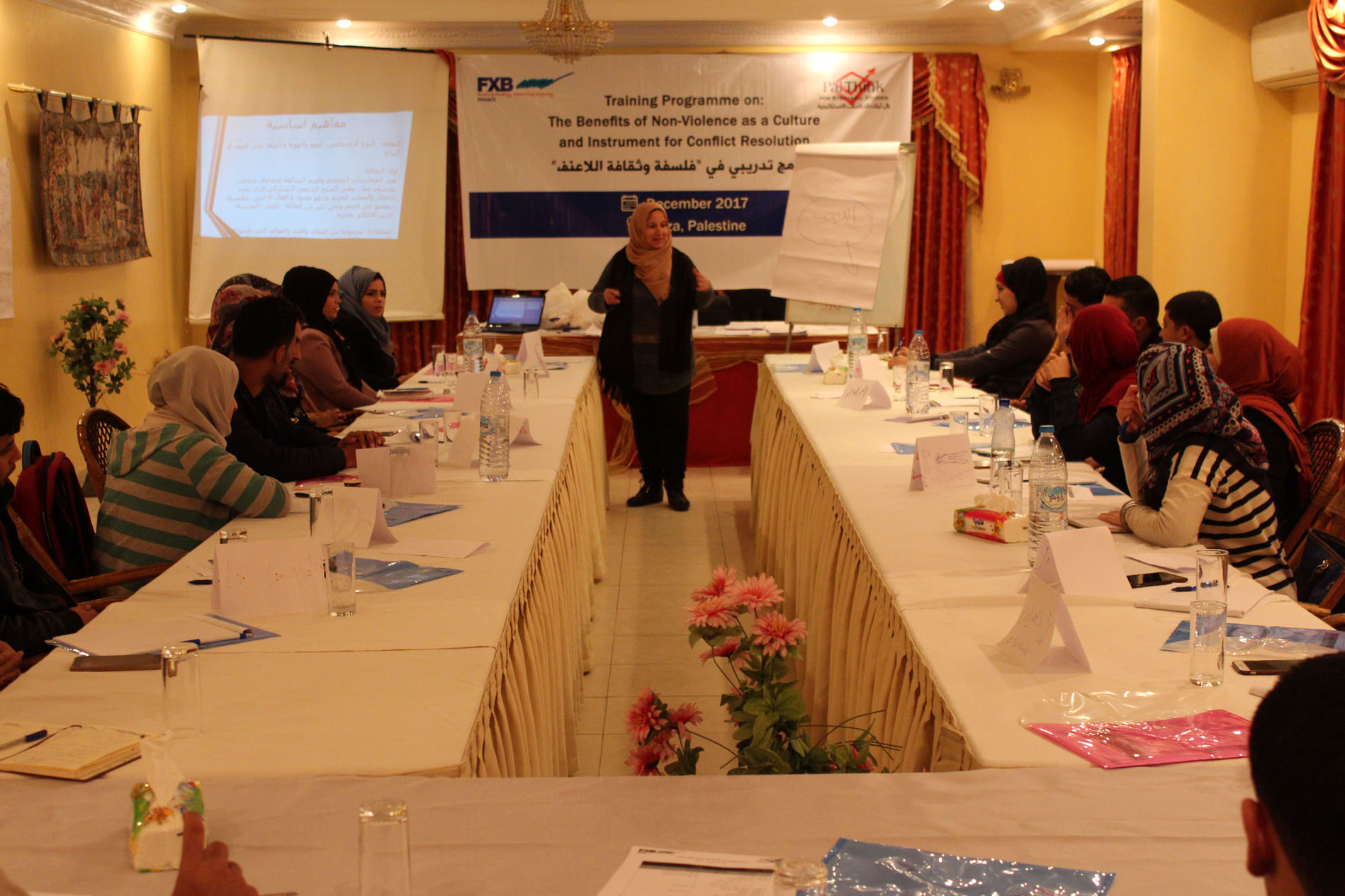 Pal-Think for Strategic Studies, in cooperation with FXB France opened a training program entitled: "The Culture and Philosophy of nonviolence", which lasts for 10 consecutive days. It is attended by a group of young males and females who have an experience in community education from all governorates of the Gaza Strip.
The course was opened by Mr. Omar Sha'aban, head of Pal-Think for Strategic Studies, by speaking about the institution's role in serving and embracing young people and supporting their participation in politics and community empowerment. He added that the focus on the philosophy and culture of nonviolence aims to spread and consolidate the behavior of dialogue and understanding as a civilized way to tackle differences. Besides, he pointed out that this distinctive program genuinely promotes reconciliation and tolerance among people. He said: "the program aims to enhance the ability of individuals to turn their frustrations, anger, and resentment into positive energy."
Mr. Sha'aban illustrated that nonviolence is an effective method at the individual and collective levels, adding that it is more influential in gaining international support for our Palestinian cause.
After That, Ms. Amal Al-Sabawi, an instructor in social development, praised Pal-Think for Strategic Studies' efforts in strengthening the youth through its projects and programs. She said: "This training session will clearly mark the absence of any violent behavior while demanding the rights." The importance of taking nonviolence as a successful model really contributes to turning the oppressed a strong person who has a supreme goal; who is able to confront the painful reality with positive attitudes to resist injustice.
The first day of the training program was about the concept of nonviolence and the use of its available methods to avoid violence in resolving differences. The participants discussed with their instructor many issues through reviewing their recounting their experiences and problems in order to identify the best solutions to avoid violence.
On the second day, the participants discussed the forms of nonviolence and ways of creating peace. Furthermore, they discussed the society's culture, personal identity, and the force concept in nonviolence. They expressed their great interest in the training program; pointed out the necessity of this issue that the Palestinian society needs in the context of crisis and conflicts.