Announcement
Programs
Conclusion of 10 initiatives within "The Benefits of Non-Violence as a Culture" Project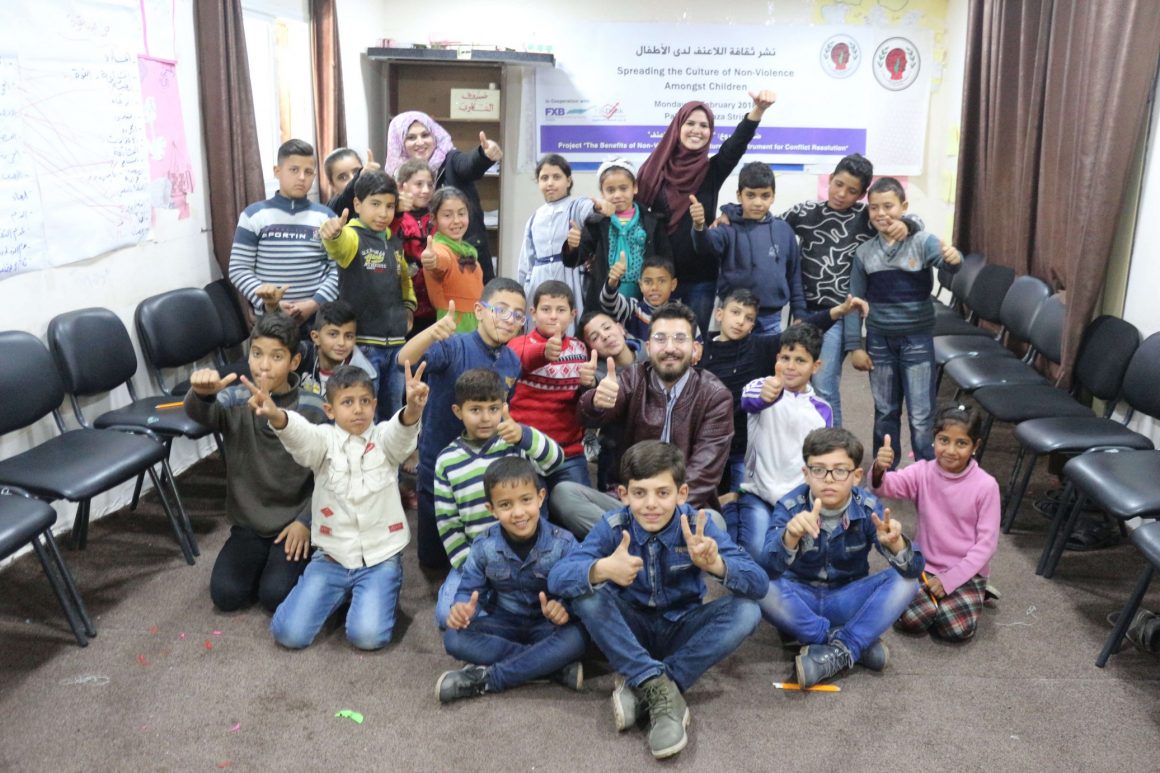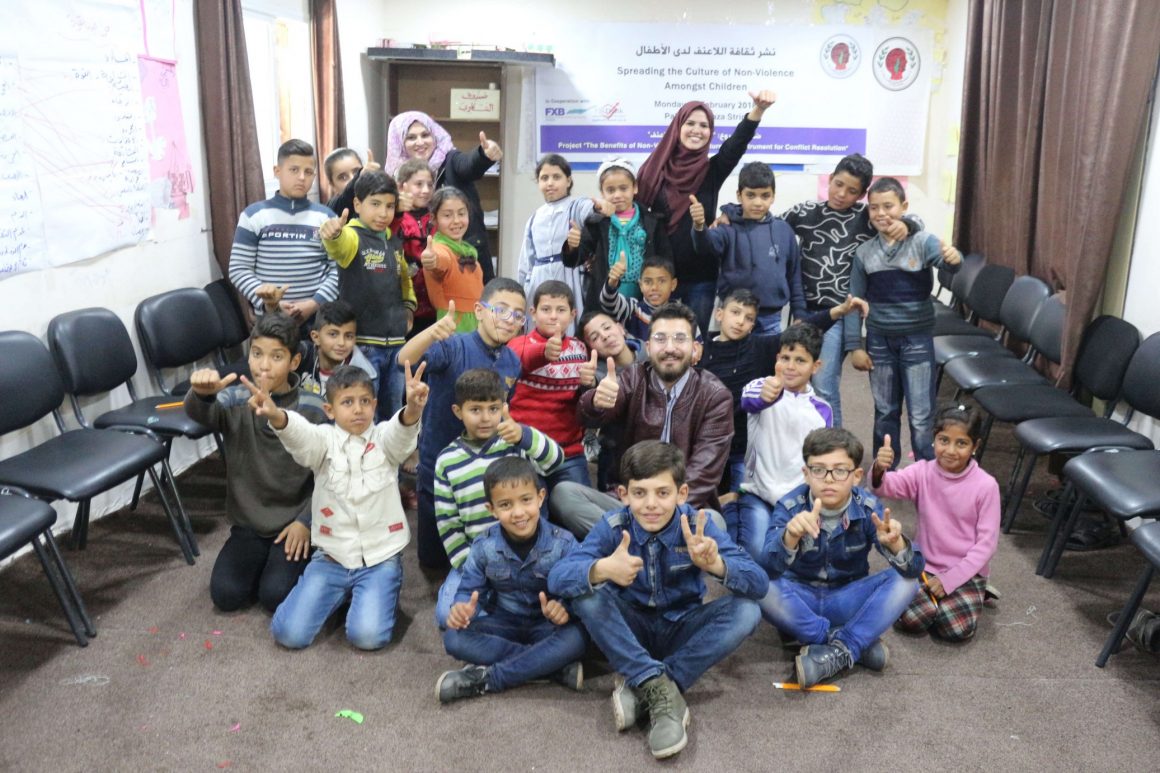 One of the main results of the deteriorating economic and social conditions in the Gaza Strip is the spread of violence and sickly behaviors. For instance, during the imposed siege on the Gaza Strip, alarming figures have been recorded in terms of poverty and unemployment. This, directly and indirectly, created an environment vulnerable to violence. Sadly.
Consequently,  Pal-Think for Strategic Studies played and is still playing its community role in raising the people awareness and cognitive skills. Pal-Think designed, in partnership with FXB, "The Benefits of Non-Violence as a Culture and Instrument for Conflict Resolution"  project. It targeted 22 young male and female university graduates who joined a course for 10 days. The course focused on nonviolence concept, nonviolent communication, peace building, tolerance and acceptance of others, lobbying and advocacy and listing nonviolent models in the international, regional, and national history. Proudly, Pal-Think has recently helped launching a range of initiatives by the project graduates themselves (currently trainers), in cooperation with several community civil institutions in all the governorates of the Gaza Strip.
Raneen Al-Za'aneen, a master of economics student, eagerly held her first initiative in which she worked to spread nonviolence culture among children in Beithanoun, the northern area of the Gaza Strip. It is worth pointing out that Beithanoun is a border area that lacks activities which promote concepts of nonviolence and tolerance. Raneen helped, in cooperation with Al-ata'a Al-Khairiya (a charity association, to let 25 children participate in various activities. These activities were geared towards raising self-confidence and instilling values of nonviolence. They actively participated in practical situations that basically focus on related values, such as social justice, voluntary participation, and peaceful solutions of disputes. This perfectly leads children to make a change in their families and schools by adopting positive thoughts and exercises.
A second initiative was conducted by Ibrahim Alian and Ahmed Ahmed  in cooperation with Palestinian Youth Ruwwad (Entrepreneurs) in Knyunis, the southern area of the Gaza Strip. It was attended by 25 women, mostly mothers. Mainly, they discussed with participants the importance of spreading nonviolence culture and tolerance among family members. They further spoke about the true way of bringing children up and the required skills of promoting nonviolent practices among women on the one hand and between their children and society on the other hand.
A third one was carried out by Mohammed Lubbad. It was entitled "Palestine Sings" and attended by 100 people in the city of deir El-Balah, the central area of the Gaza Strip. He believes that music has a profound, lovely impact on the person's soul. He also asked artists and singers to adopt nonviolence culture in their works. The band represented a group of national songs as well as the Palestinian Dabkeh.
Abdul-Salam Mortaja implemented the fourth initiative, in cooperation with Basmat Amal (A smile of hope) organization. It was geared towards helping cancer patients deal with their illness un-violently. It was attended by 30 female cancer patients. AbdulSalam spoke about cancer and how it affects the patient's psychology; he told them how they could overcome these negative symptoms un-violently and by engaging in life naturally and effectively. Interactively,  attendants were listening to the success stories that Mortaja mentioned to encourage patients to encounter their illness positively.
The fifth initiative entitled "Non-violence Philosophy and its integration with social and self-intelligence" was implemented by Doha Sha'at in Rafah, the southern area of the Gaza Strip. It was conducted in cooperation with the Academy of Multiple Intelligences, in the presence of UNRWA officials and Omar Sha'aban, head of Pal-Think.
Mr. Omar confirmed the necessity of connecting Gaza with the outside world, focusing on the new generation of Palestinian youth and deepening the culture of nonviolence, tolerance and interactive dialogue.
Furthermore, in her activity with children, Doha focused on using social and self-intelligence in spreading nonviolence among them and their societies as well by promoting the values of citizenship, coexistence, social participation, tolerance and acceptance of others. All of these were highlighted through recreational activities that focused on teamwork. The initiative included other interesting musical paragraphs.
In the sixth initiative, Neveen Al-Ghoul focused on combating extremism with nonviolence. It was attended by a number of community activists, writers, artists and young people. She implored that extremism is the first step of violence. She added that extremist ideology which basically generates anger must be confronted in a nonviolent manner. The session included several exercises on tolerance and anger control.
In the same context, Mohammad Al-Tahrawi conducted his initiative entitled "Nonviolence Culture to combat Gender-based Violence" in Nusseirat camp, the Central area of the Gaza Strip. He expressed there the foundations and components of gender, pointing to the mechanisms of national and international protection against violence, especially against violence against women. Participants and he discussed this type of violence, its types and the appropriate ways to promote nonviolence culture.
Emtethal Abu Zubaida and Ahmed Ahmed stressed, in their initiative, on promoting nonviolence culture within Palestinian society by modifying behavior and how to positively instill the desired behaviors within them. They carefully listened to the mothers' stories with their children. Mutually, they discussed ways of solving problems, strengthening positive behaviors and disseminating nonviolence culture among families and children.
In addition, Nour Abu Takia and Amal Sammak successfully implemented their initiative "Nonviolence Culture: True Educational ways", in the presence of 25 mothers. Both implementers spoke about the necessity of promoting nonviolence culture in Palestinian society. They showed also many educational ways to deal with teenagers. To illustrate, they discussed parents' role in helping teenagers have a good mental health. Mothers were listening excitedly to many ways to apply constructive and positive dialogue with adolescents to meet their needs. This, in turn, will serve parents and teenagers to positively affect the society.
Finally, Maram Abu Harbeed initiated to promote the language of dialogue between university students and graduates. In the presence of 25 male and female students and graduates, she started to mention stories that mimic their experiences, especially in university. She further stressed the importance of dialogue as a tool in order to overcome any potential violence and its consequences.
Interestingly, Pal-Think, as a part of its mission, is working on helping the project graduates in implementing a number of educational and creative initiatives. This project will last for a year, targeting civil community organizations to play a considerable role in spreading nonviolence culture and community peace.