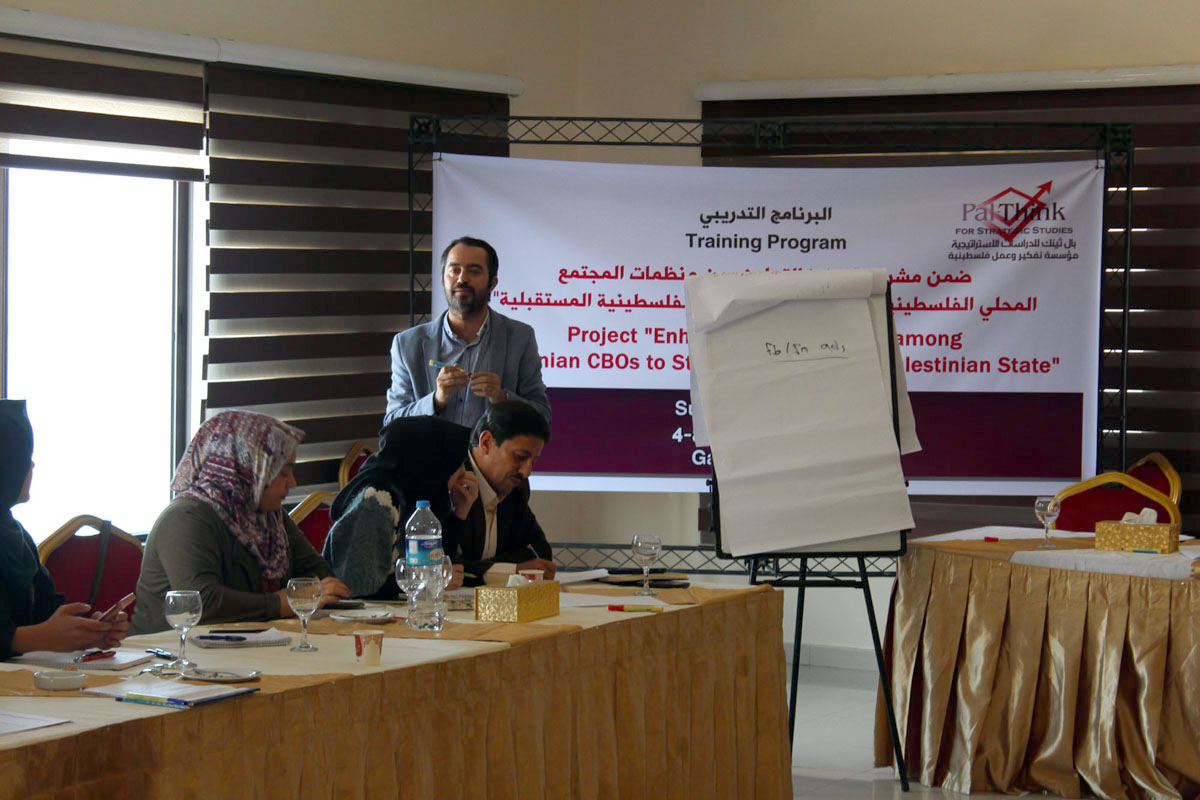 Pal-Think for Strategic Studies has concluded a training program in both Ramallah and Gaza city, within its first phase, the project entitled as: "Promoting Cooperation between the Palestinian Community Organizations to build the Future State of Palestine." This project aims to promote and enhance the work and interaction between NGOs on the national level, through the implementation of initiatives, to discuss challenges and issues facing the Palestinian society, besides providing a scientific vision and political recommendations that support the building of the Palestinian state.
Thirty-four NGOs institutions from the northern and southern governorates in both Ramallah and Gaza city participated in the training. Pal-Think's director introduced the project and noted the importance of training programs in building skills for CBOs volunteers, stressing the importance of unifying efforts among NGOs institutions in all the Palestinian governorates, in order to contribute to finding solutions for different issues and crises faced by the Palestinians.
He also stressed that it is very necessary that CBOs work together on the national level, instead of working individually in Gaza, West Bank and Jerusalem. The training targeted individuals implementing initiatives within the project from staff in partner institutions, to develop the capacity of NGOs so that it can contribute positively to building an advanced Palestinian society and state.
The training lasted for five days in Gaza city, and four days in Ramallah, it was conducted by qualified trainers, who coached about  several topics such as "project management, human rights, women and gender issues, Palestinian law and constitution, community development, youth empowerment, principles and basics of writing research papers, in addition to writing press reports and social media."
The training program focused on introducing participants with the basic principles of the above-mentioned topics, enabling them to integrate these principles into their activities in all current and future projects, as well as helping them in the implementation of community initiatives which come in the second phase of the project.
The participants praised the benefits of the training program since it enhanced their knowledge and experience. It also enabled the participating institutions to exchange ideas and proposals within this project through networking for future cooperation with other partners.
The project was announced in July 2018 where 42 proposals for initiatives were received. Pal-Think selected the best initiatives considering specific standards included in the project, the most important one was ensuring the continuity of work between the NGOs in the northern and southern governorates, because ultimately sustainability is the key.