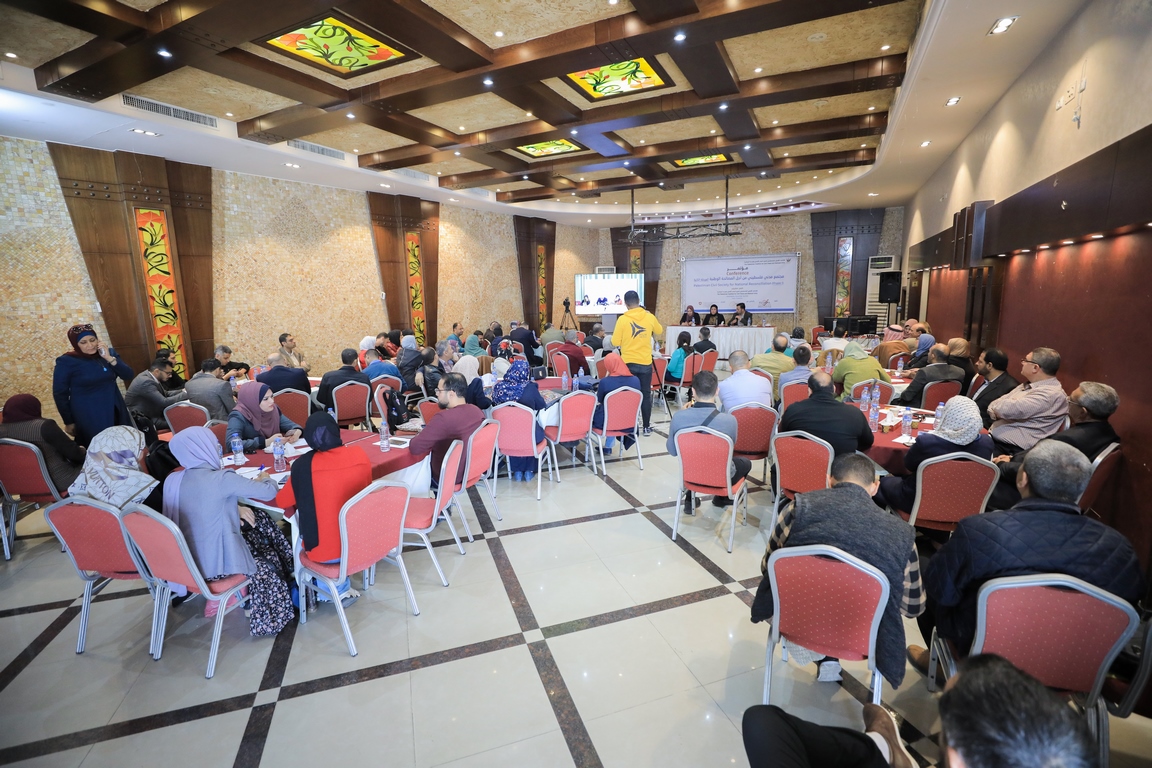 PalThink for Strategic Studies and Palestinian Association for Empowerment and Local Development (REFORM) held today the "Palestinian Civil Society for National Reconciliation" conference to conclude the second phase of the "Palestinian Coalition for Civil Peace and National Unity" project, funded by the Swiss government.
The conference was attended by Ms. Emilie Saghir, Human Security Advisor at the Representative of Switzerland in the Palestinian Territories, and more than 140 representatives of partner civil society institutions from the West Bank, Jerusalem, and Gaza Strip; researchers; university professors; and activists.
The meeting was opened by project coordinator at PalThink Sally Al-Sammak, who welcomed the attendees and said that the project is implemented by a group of civil society institutions with the aim of achieving Palestinian reconciliation.
She pointed out that the broad collaboration between the partner institutions in both parts of the country aims at laying the foundations of unity towards achieving sustainable development, and this requires the collaboration of all parties.
In turn, the Director of PalThink, Omar Shaaban, welcomed the attendance and confirmed that his institution has placed the issue of Palestinian reconciliation among its priorities since the occurrence of the division and produced the first research paper to address it.
For her part, the Human Security Adviser at the Swiss Representative Office in the Palestinian Territories, Emily Zughair, thanked PalThink for inviting her.
She said, "the Palestinian reconciliation is an essential part of the work of the Swiss representative office since the division. One of Switzerland's goals in the Middle East is the creation of an independent, viable Palestinian state. This conference crowns the efforts of civil society organizations to enhance community security and achieve national reconciliation."
The conference included speeches delivered by representatives of partner institutions in Gaza and the West Bank, who spoke about the initiatives they implemented and the challenges they faced. In addition, five researchers from both parts of the country reviewed five research and policy papers they prepared.
The conference was concluded with interventions and questions from the audience about the role of youth under the current circumstances, ways to restore youth confidence in political and national action, the need for networking between the institutions of both parts of the country and its importance to end the division, the challenges facing civil society in achieving reconciliation, and the extent to which society can impose national reconciliation on split ends.