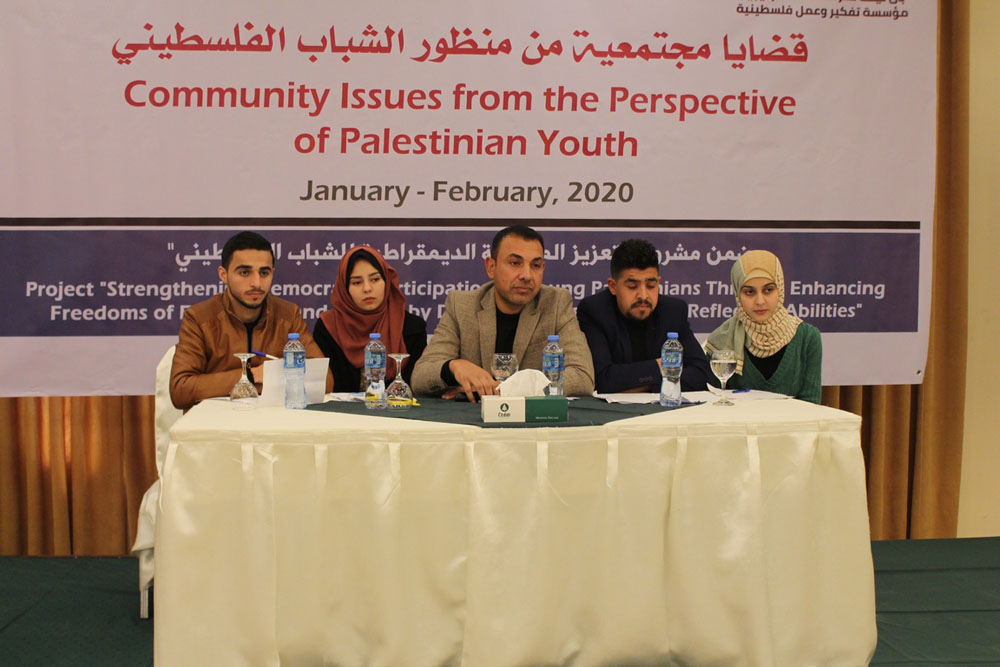 Pal-Think for Strategic Studies has organized the second of a series of round table discussion sessions titled "Community Issues from the Perspective of Palestinian Youth" within the "Strengthening Democratic Participation of Young Palestinians" project funded by the Government of Canada. During this session, five of the young researchers presented three papers to an audience of academics, researchers, and stakeholders.
The session was launched by the project's coordinator, Sally Alsammak, welcoming the audience and stating that "the purpose of roundtable discussions is receiving feedback to improve the quality and effectiveness of the papers, because they address the issues of the whole community, more specifically those of the youth. They are built on a scientific basis. Pal-Think always takes interest in building the research capacity of young people to allow them to express their views on their issues scientifically. This underscores their role in society. These young people produced their papers using actual statistics and official figures taken from their original sources"
Dr. Islam Attalla paneled the discussion introducing the researchers and their respective papers and highlighted Pal-Think's role in achieving this milestone.
Abdallah AbuShamla and May Alsous presented their paper titled "Graduates and Online Freelancing", which discussed the reality of Gaza's youth with online freelancing, and how it affects the economy. The findings stated that graduates need more courses and workshops to qualify them to compete in the global freelance market, and that there's a negligence from the majority of higher education institutes towards freelancing despite the exploding unemployment rates.
Waseem Alkhaldi also presented his paper titled "Youth and Voluntary Work: Between Necessity and Abstinence", in which he highlighted the abstinence of Gaza's youth from volunteering despite their experiences and skills, and the its reasons and negative impact on the society as a whole.
Finally, Nourhan Altabatibi and Yasmin Aldremly presented their paper titled "Accommodating the Outcomes of Media Education with the Labor Market's Requirement", in which they examined the suitability of the media faculties to the needs of the media labor market, and how it impacts the sector's graduates.
Attendees warmly commended Pal-Think's efforts in coaching the youth on scientific research, as well as the trainees' efforts in producing their papers during the feedback rounds during the discussion.
During the project, 20 trainees received 10 days of intensive training in intellectual writing, freedom of expression, and presentation skills. Then presented 10 different papers in issues of concern to the youth both in print and aired on Alwan Radio. This session was the second in three sessions presenting the papers to the public and research community in Gaza. Pal-Think will remain committed to empowering the Palestinian youth to an ultimate goal of enabling them to serve their community's sustainable development and the establishment of their country.