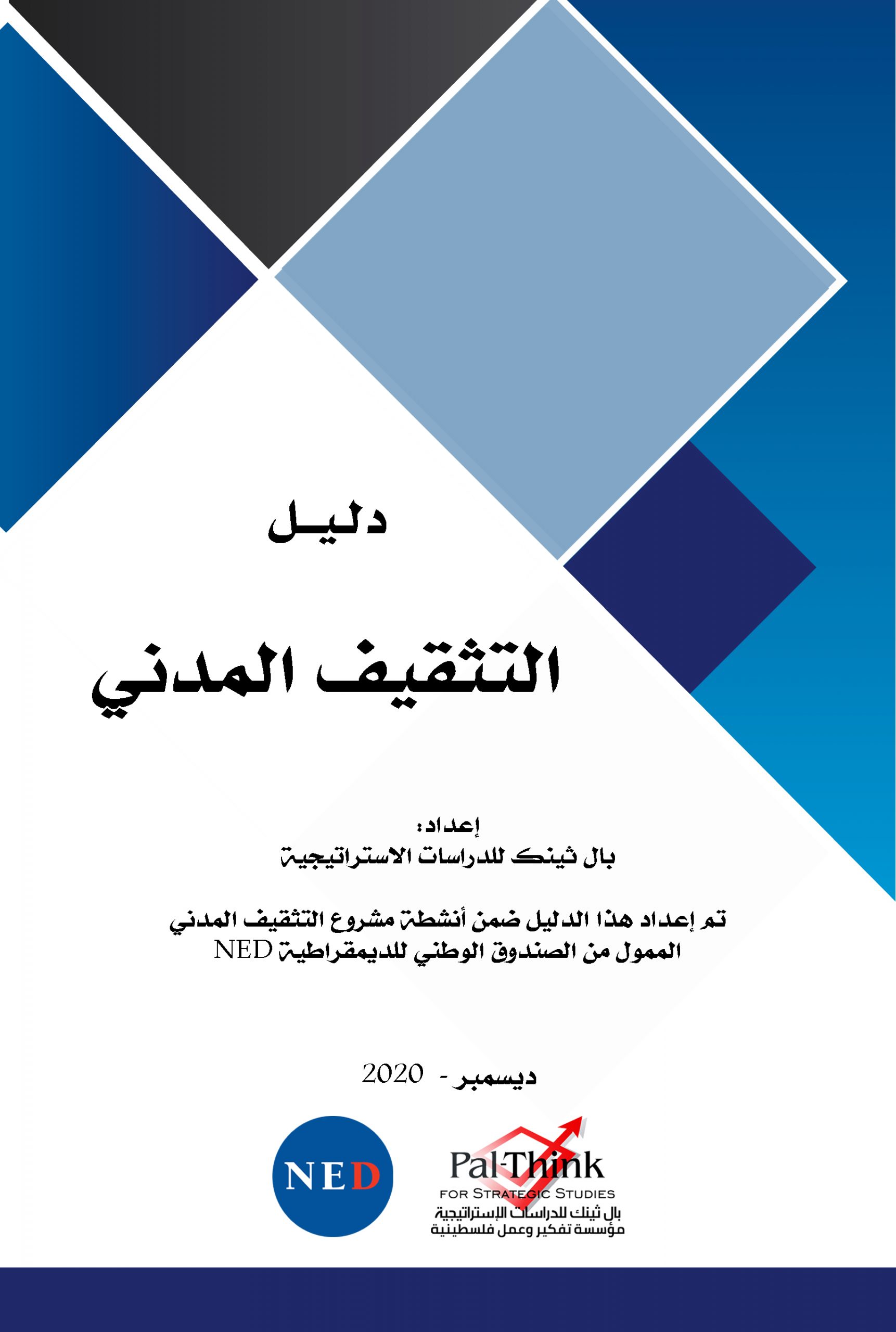 As part of Pal-Think's role in promoting a culture of democracy, human rights and the rule of law in Palestinian society in general and among young people in particular, it  has produced a Manual of Civic Education, with the participation of selected experts and trainers in democracy, human rights, the rule of law and gender-based violence.
It is worth noting that it  is part of Pal-Think's Civic Education Project, which is  funded by the National Endowment for Democracy (NED), which included an intensive 10-day training programme for 25 university students.
The training focused on providing trainees with skills, knowledge and information on issues of democracy and human rights, gender-based violence, the Palestinian legal system, the principles of integrity and transparency, good governance and presentation skills, with the participation of selected trainers in these areas.
The project also included the implementation of 5 radio episodes and 15 awareness-raising events aimed at Palestinian university students and the trainees themselves, in which they discussed the issues and topics on which they were trained during the project.
In turn, the Director of Pal-Think for Strategic Studies, Mr. Omar Sha'aban, the publication of this manual is part of the ongoing efforts of Pal-Think to enrich and strengthen Palestinian libraries with studies, research and reference in several areas.
Then he stressed that in order to ensure the sustainability of the effects and objectives of the project, the Manual had been prepared as a basic resource for researchers, trainers and specialists on democracy and human rights issues.
He also added that Pal-Think had numerous papers discussing and dealing with various issues in the Palestinian cause. As, he would welcome access to the Organization's website for access and use.
The manual consists of 76 pages in which the topics of human rights, democracy, political participation and citizenship, governance system and good governance in Palestine are discussed in the manual. Besides, gender justice, lobbying and advocacy skills are addressed.
These issues and topics have been addressed in a simplified manner that is accessible to all citizens, especially young people, and used as a basic reference and an integrated training manual.
The manual : http://palthink.org/2021/06/5636/