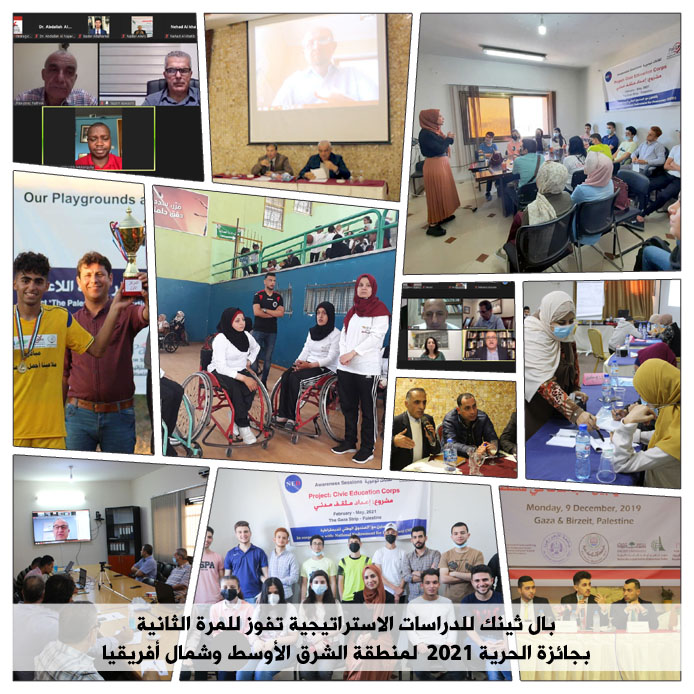 Palthink for Strategic Studies, non-partisan independent Gaza-based think tank, has been awarded the 2021 Regional Liberty Award for its work in the 'Enhancing Youth for Local and Global Change' project focused on non-violence, crisis prevention, democracy, and Covid-19 response, and youth and women empowerment; the award is annually presented by the Atlas Network that includes 500 member organizations worldwide. Palthink was also named the winner of the award back in December 2018 for its significant work in advancing a culture of non-violence in the Gaza Strip.
Since its foundation in 2007, Palthink has succeeded in implementing multiple programs focused on promoting the culture of non-violence, democratisation, human rights, women and girls' empowerment, and among others aiming at advancing youth participation in the civil society. It has also implemented a tremendous number of projects of creative and educational initiatives that foster community harmony and inclusivity.
In 2021, Palthink carried out four impactful projects that promoted non-violence as an instrument to make peace domestically and regionally, responded to the consequences of the Covid-19 lockdowns on economy in the Gaza Strip, empowered women and girls in research skills, and contributed to refining soft skills for university students and graduates from the five areas of the Gaza Strip. The projects outreached to marginalised areas and vulnerable groups that were included in the activities.
Through these projects, Palthink has also supported small community-based organizations to enlarge their capacities, execute small community initiatives, and lead workshops and training courses designed to equipping young learners with the necessary skills to participate and be positive change agents. Following these activities, Plathink has been able to make significant contributions to the understanding of individual liberty, democracy, prosperity, and encouraged youth to run free enterprise and small businesses. Palthink's winning projects also helped in improving the political atmosphere and deepening Palestinian youth's political understanding.
As such, the participants of Palthink's projects have always expressed their willingness and passion to continue giving back to their communities the liberal values and principles that they have acquired during the journey in the activities. Others have spoken their hearts out about what they love doing. 'I am glad to share with the world what I do during the lockdown; painting is always an inspiration to me to deliver the messages that I want everyone to learn about. Now, I invest in my time to both elevate my painting skills and speak to the world through art' Raghad, 12, participant who was interviewed during our Covid-19 response project funded by Atlas Network. Palthink believes that keeping abreast of the situation through empowering youth and disseminating the culture of non-violence, tolerance, and individual liberty is significant to make a difference on the ground.
In conclusion, Palthink, a strategic partner with the global network of Atlas, is thankful for being named the winner of the 2021 MENA Liberty Award. Palthink's projects will always continue to advocate for free societies in Palestine and worldwide.