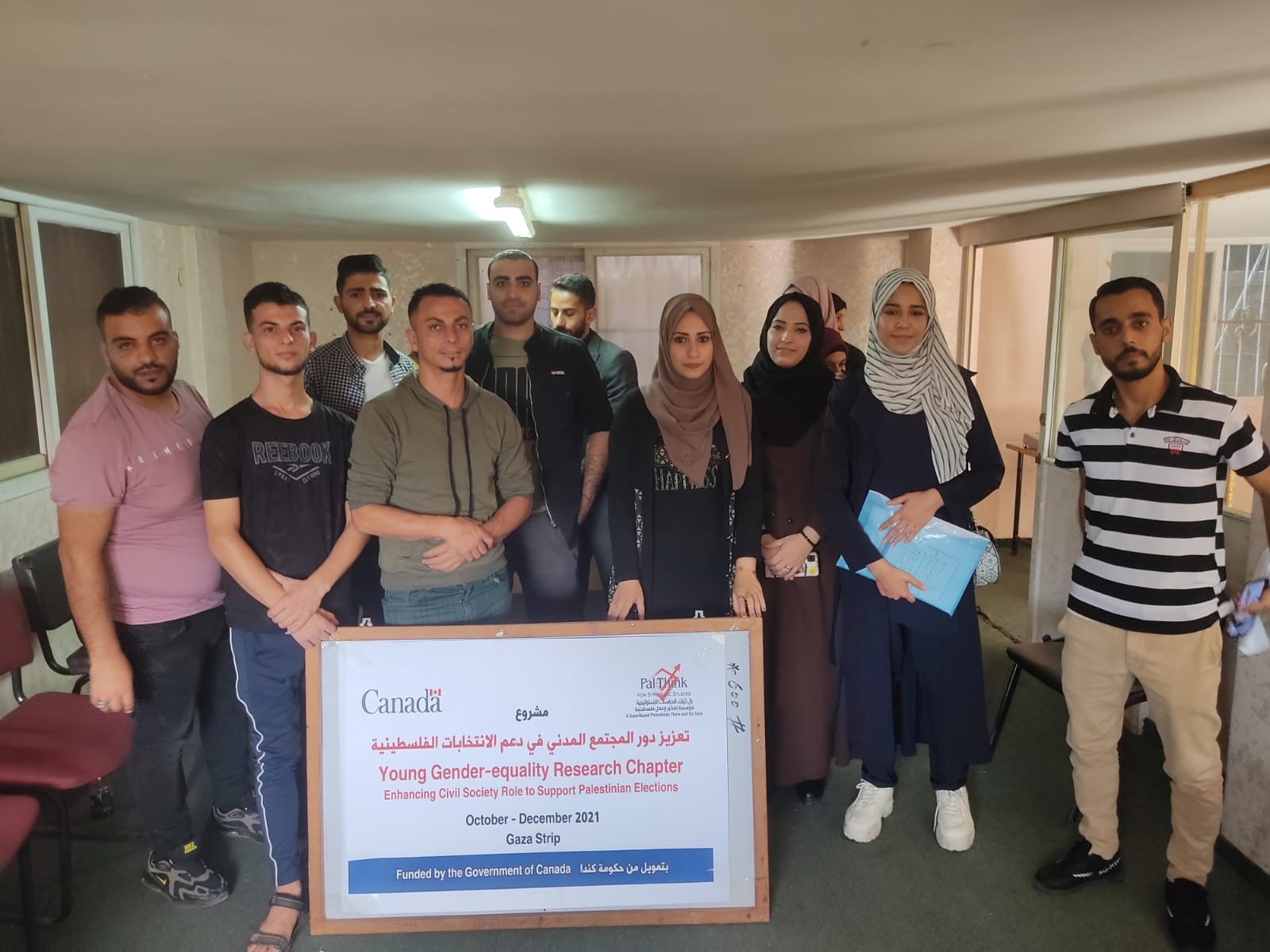 As part of "Empowering Civil Society Role to Achieve Palestinian Elections" project implemented by Pal-Think for Strategic Studies and funded by the Government of Canada, Pal-Think continues to implement its awareness-raising sessions. It focuses on democracy and human rights issues, targeting different groups in society, particularly young people, aiming at raising their awareness about the topics and issues that matter to them and to the society in general. The sessions are carried out by a team of young trainees who have participated in various project activities and received extensive training at the beginning of the project on these topics and the mechanism for the transfer the culture and knowledge.
The first meeting, entitled "Gender and Role Gap" was held in cooperation with Khatwa Association for Social Developments in the Northern Governorate. The trainees, Hadil Zakout and Sauson Al-Ajouri, addressed: the basic definitions of gender, gender roles, and measuring the gender role gap. A discussion took place with the audience who are university graduates from different fields of study on these topics, as well as a discussion of legal gender. They were also introduced to the international treaties on women and gender. The most important of which is the Sidao Convention which was discussed from the perspective of young people.
The second session was held in cooperation with Wefaq society for Women and Children Care in the Southern Governorate. The session was moderated by the trainees, Ahd Abdullah and Zainab Al-Azar, Amir Hassan, on the subject of "Gender Equality" with the attendance by a group of women and civil society activists. The session addressed the concept of gender-based justice and gender-based violence explaining the importance of gender justice and equality and their impact on women in Palestinian society. The trainees also highlighted the obstacles and challenges facing Palestinian society to prevent violence against women and the mechanisms to address it. There was discussion with the audience about the most important roles women can play in addressing violence and the challenges impeding their progress and demonstrating their participation in society.
The trainees expressed their satisfaction with their ability to manage such sessions and their successful efforts to share knowledge and culture with different groups in society.
It's worth saying that the project's activities also include a series of radio podcast, lobbying and advocacy campaigns, as well as accountability sessions and debates. That is a way to help structure a generation of young people who believe in democracy and human rights issues in society and play a role in promoting it.
The designations employed and the representation of material in these meetings do not imply the expression of any opinion whatsoever on the part of the Government of Canada."