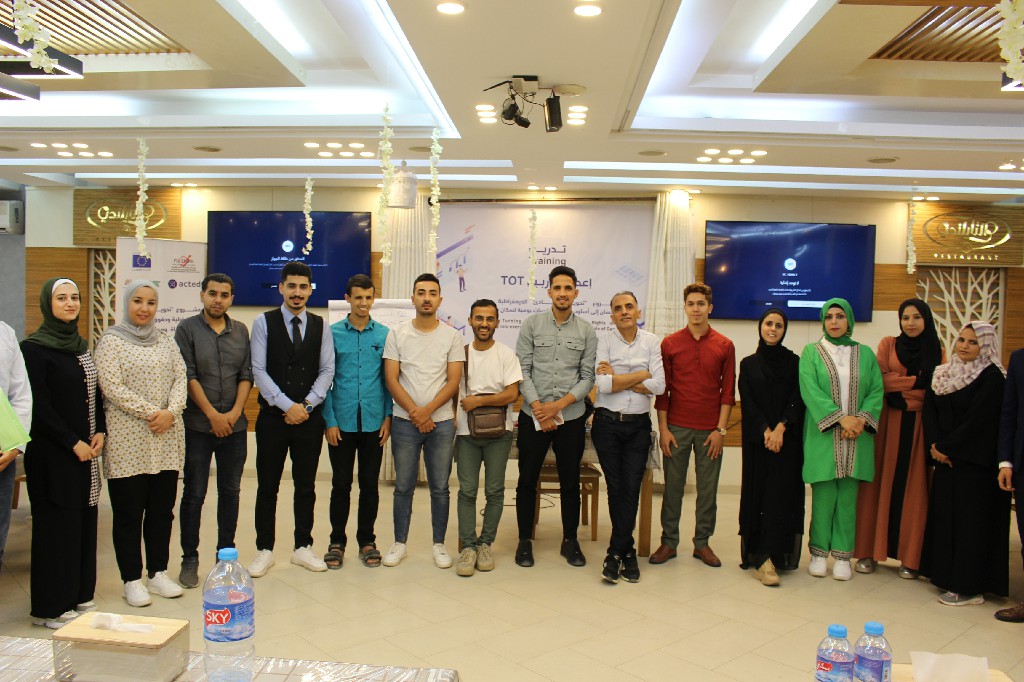 Gaza – PalThink for Strategic Studies has concluded a 10-day training of trainers course, as part of the "SWITCH: Turning the Principles of Human Rights and Democracy into Everyday Life and Practices for the People of Gaza" project, which PalThink implements in collaboration with ACTED and Convergences with funds from the European Union.
PalThink Director, Omar Shaban, concluded the training by introducing the next steps for the participants after they were prepared with skills and knowledge, as they will organize 30 workshops in collaboration with local CSOs and CBOs.
The training program provided the trainees with a panoramic view of the situation of human rights and democracy in Palestine and related issues and equipped them with the tools to measure and promote human rights and democracy.
At the beginning of the training, trainer Abdullah Sharshara introduced the concept of the human being from the point of view of law and the development of the concept. In turn, trainer Tahani Qassem addressed gender equality in the Palestinian society.
The second phase of the training, with trainer Talal Abu Rukba, focused on political participation and decision-making in the Palestinian political system and political decision-making mechanisms. Trainer Islam Atallah Musa discussed the concept of democracy, its developments, and global indicators.
For the third phase of the training program, trainer Muhammad Abu Kamil provided the trainees with media and publishing skills, which aims to provide the trainees with the basic skills to prepare media materials for publication on media websites.
The final phase of the training course focused on public speaking and presentation skills, with the human development trainer Samah Al-Safadi.
It is worth mentioning that the trainees who received the democracy and human rights training will begin in the next phase of the project to benefit from all the trainings they received in the subsequent stages, which are concerned with transferring the experiences and knowledge they received in the trainings to the Palestinian society.