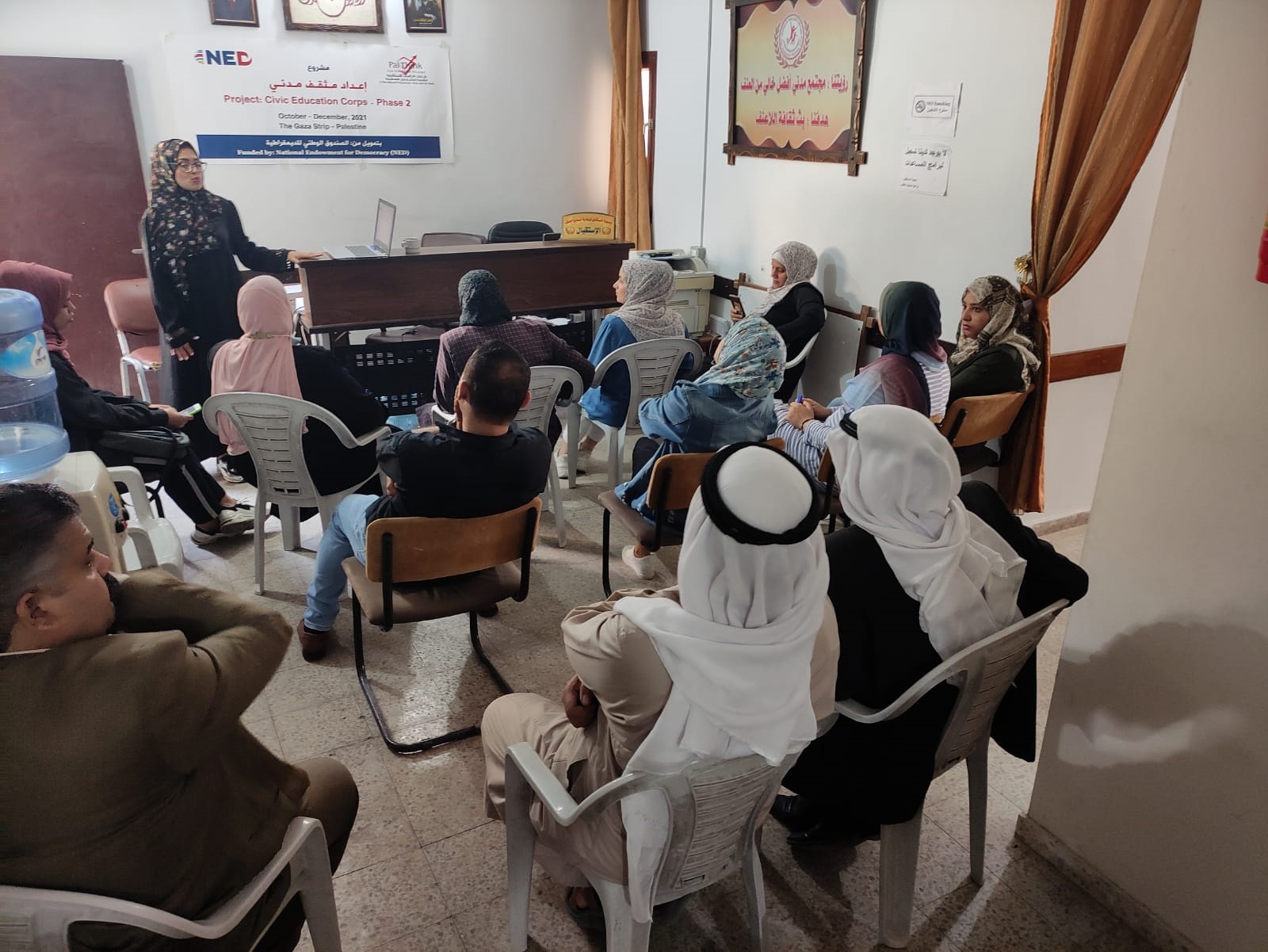 In continuation of Pal-Think's efforts to raise community awareness on democracy and human rights issues and to disseminate the dialogue skills and tolerance among members of society, Pal-Think carried out an awareness session entitled "Strengthening Women's Capacities in Political Participation," in collaboration with Al-Mostaqbal Association for Violence Victims Care ,by members of the Civic Education Corps, Nedal Abu Sharbi and Maisson Ouda. This comes as part of the project: Civic Education Corps – phase2 implemented by Pal-Think for Strategic Studies Funded by the National Endowment for Democracy (NED). That aims in structuring a young generation believing in the principles of democracy and human rights concepts in the Gaza Strip and to find young leaders capable of spreading these values in their society.
Mr. Nedal Abu Sherbi, opened the session welcoming the audience and introducing Pal-Think and its role in enhancing the abilities and skills of young people and disseminating a culture of women's rights in Palestinian society.
He also highlighted the objectives of the session which seek to raise the awareness of Palestinian women and all members of society about the right to political participation and the basic principles and international conventions that affirmed that right. And the most important of which was the CEDAW Convention, Convention on the Elimination of All Forms of Discrimination Against Women. He emphasized the women's right to political, social and legal participation as well as all their rights within the Palestinian society.
Ms. Maisson Ouda in turn talked about the political participation and defined it: "It is the constitutional democratic right of all reasonable adult members of society to participate systematically in political decision-making relating to their lives together in a society and to exercise this right effectively, free from pressure, coercion and binding factors." She also highlighted the most international and local laws that organized the right to political participation of all members of society in general and women in particular. And she mentioned the forms and importance of women's political participation, the obstacles and challenges they face during the process of political participation in Palestinian society. Further, she presented a series of actions that must be taken to facilitate the empowerment of women to exercise their right to political, social and legal participation. "
The meeting also showed videos illustrating the difficulties faced by women in Palestinian society and impeding their political participation, as well as a reviewing of the CEDAW and explaining it to the audience to raise awareness.
Moreover, the session had discussions and inquiries among participants which were answered by the facilitators. At the end of the session, the participants confirmed the importance of implementing such sessions that contribute to raising awareness among all groups in society and help empower women to participate in political life.
It's worth noting that this session is part of a series of sessions and activities to be carried out within the framework of this project. That includes preparing research papers discussing issues and topics relating to democracy and human rights, implementing radio podcasts and public sessions. An intensive training program lasted for 7 days was implemented earlier targeted members of the Civic Education Corps that enhanced their capacities in democracy, human rights, research skills, presentation and presentation skills.