Youth
ICRC Provides a Training Program in International Humanitarian Law for Members of the Youth Forum at PalThink for Strategic Studies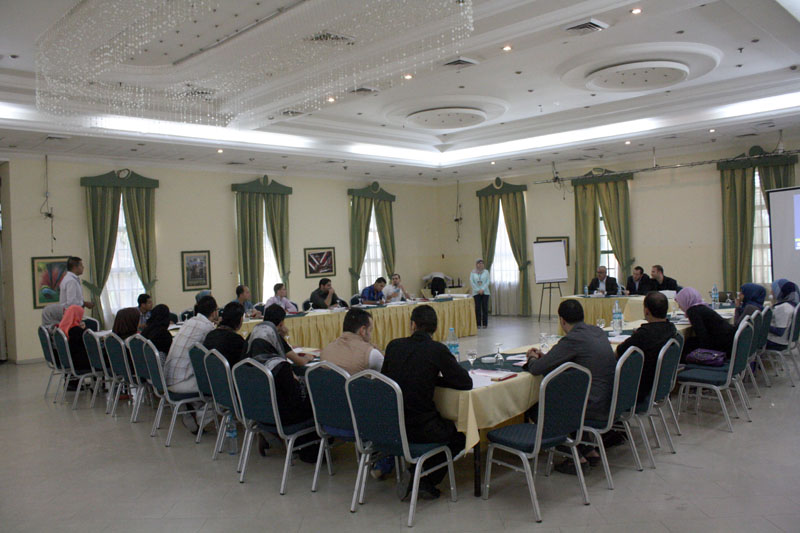 In an attempt to enhance knowledge and build the capacity of the Palestinian youth through providing educational activities, Pal-Think for Strategic Studies organizes a training program, given by the ICRC, in "International Humanitarian Law" for members of the Youth Forum for Unity and Tolerance at Pal-Think. This program is a 2-days long program that aims at enriching youth's knowledge about nature of work done by ICRC and educating them on topics such as International Humanitarian Law, the Geneva Conventions, concepts of human rights and voluntary and humanitarian work.
Mr. Omar Shaban, Director of Pal-Think for Strategic Studies, started the sessions by Thanking the ICRC for what he described as valuable learning opportunity for the youth. Mr. Omar focused on the importance of this program as it provides the participating youth with educational concepts that are highly needed to be known of in our Palestinian society, considering the conflict zone we live within. In addition, he also stated that International humanitarian law is part of international law, which is the body of rules governing relations between States. And as a member of the international community, Palestine and the Palestinians must know enough about it.
From his side, Mr. Christian Cardon, Head of ICRC in Gaza, took this event as an opportunity to express his happiness in seeing youngsters, males and females, who are interested in this topic, and he said: "It is not a pleasure, but it is also an honor for me to be between this talented group of young Palestinians who will one day lead their people to a brighter future."Moreover, Mr. Cardon spoke about the role of ICRC in dealing with conflicted areas and improving the lives of those who are affected by wars. In the meantime, he also talked about how important it is for ICRC to make sure that people are aware of their work and mission, as well as how important it is for them to interact with the people, hear from them and learn from their personal experience in order to improve their services and work more effectively.
The program is 2 days long that provides about 30 young participants with training activities, lectures, presentations and Film viewings on related topics, and at the end of the program certificates will be given to all participants who benefited from this program.