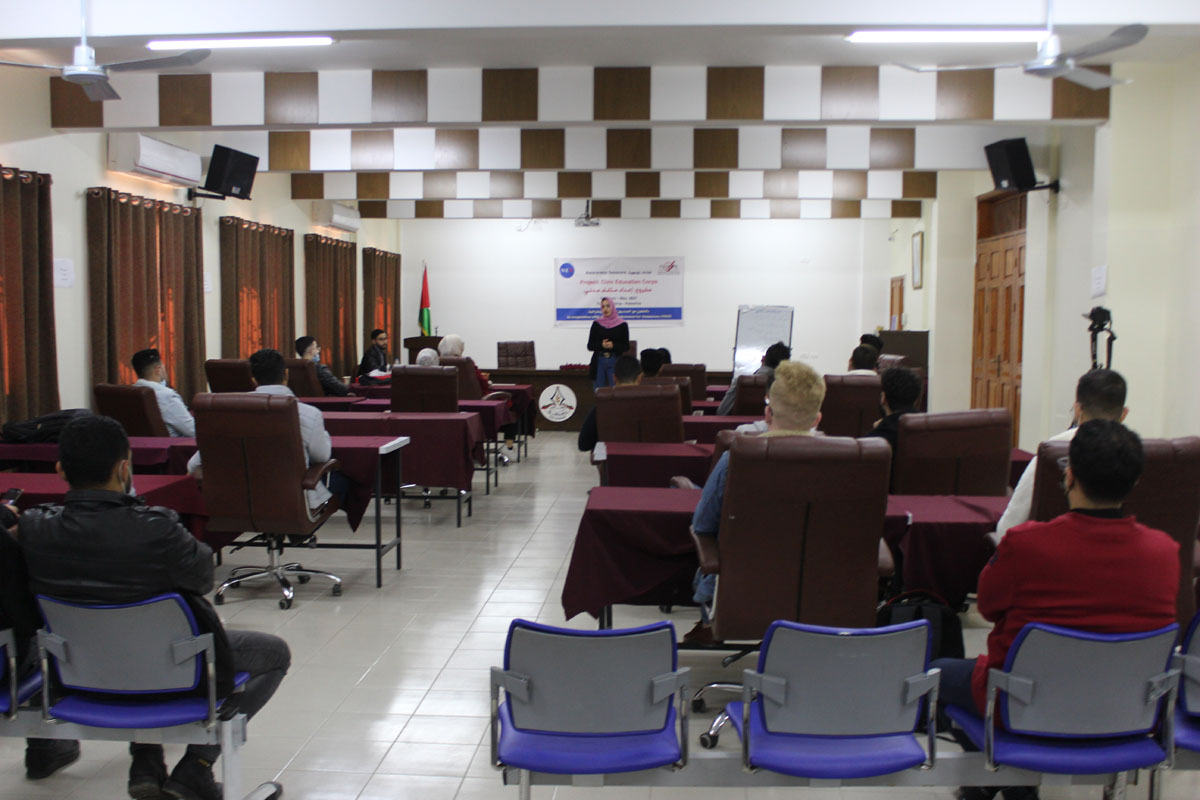 Within the role of Pal-Think for strategic studies in strengthening the capacities of young people and developing their skills in democracy and human rights issues; The Civic Education Forum, which is run by Pal Think for Australian women scholars, has conducted three awareness events on democracy and gender-based violence.
This comes within the framework of the project "Preparation of a Civic Intellectual," which is being implemented by Pal-Think for  Strategic Studies, with funding from the National Endowment for Democracy (NED), which aims to train a group of university students in subjects related to democracy, human rights and gender-based violence and to empower them to become better able to express their views and aspirations.
The first event at the University of Gaza, entitled "Principles of Democracy," was conducted by the  students,  Aya Abo Hattab and  Abdullah Hassan, during which they spoke about the concept of democracy, the stages of the development of the concept of democracy, the relationship between democracy and human rights, the elements of democracy and the obstacles to democratization, and the facilitators spoke about freedoms and the relationship of democracy with new politicians, away from typical parties, to enrich the political process.
The second event was held at the Alumni Association, entitled "Gender-based Violence," which was conducted by students Hadil Ahl and Asia Albatrikhi,  and it was about the concept of gender. Also, it discussed the differences between gender and sex. Besides, ignorance and awareness of gender were also discussed. 
As well, the Palestinians reality and its cultural  and legal differences that badly affect justice were also discussed. Moreover,  a short video of gender perceptions was also made  on social roles and the concept of gender-based violence, its types and its implications. and the latest studies of the high rates of violence in the Gaza Strip.
The third meeting, held at the Fares Arab Foundation, was entitled "Gender-based violence in Palestinian society." The meeting was conducted by student Soha Sokar, who spoke about the concept of gender, forms of gender-based violence in the Palestinian situation, mechanisms for dealing with cases of gender-based violence, and reviewed legal texts dealing with issues of gender-based violence.
The facilitators of the outreach meetings are a group of university students trained by the Pal-Think organization  as part of an intensive training programme that lasted for two continuous weeks, focusing on the issues of democracy, human rights and governance in Palestine and the principles of impartiality, transparency and gender-based violence.