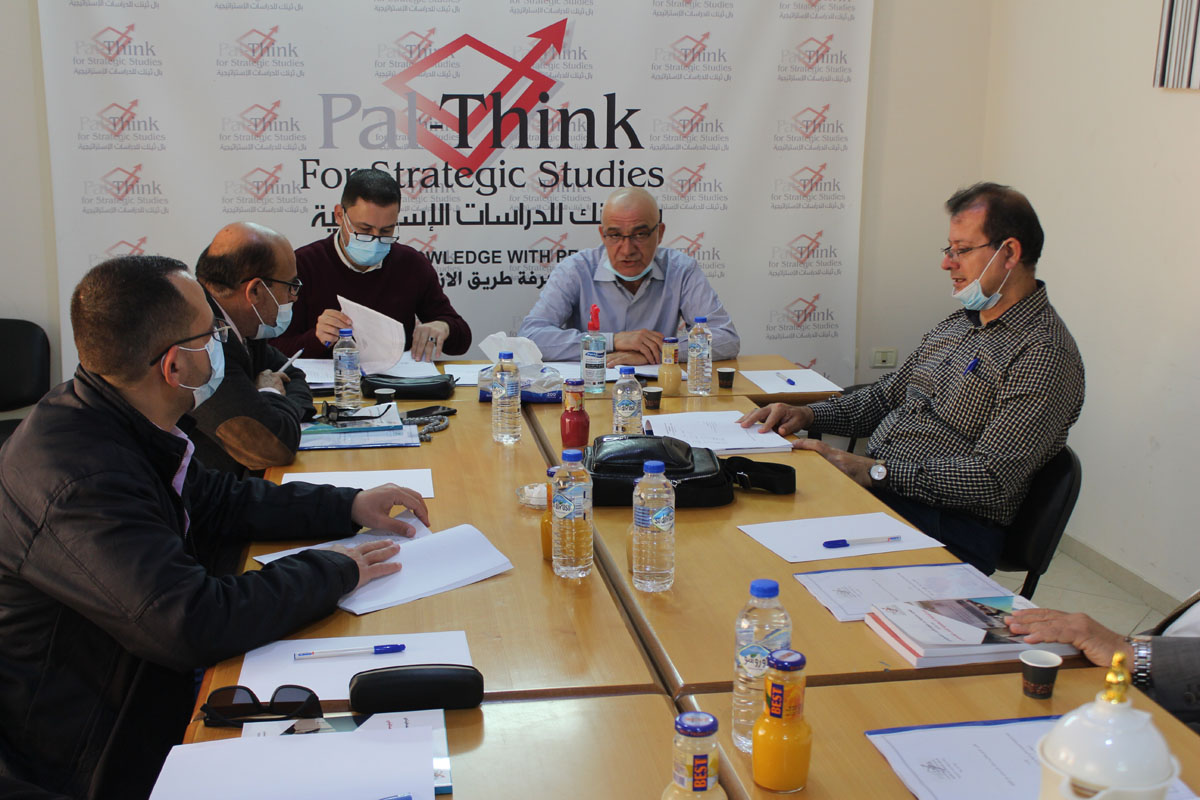 Pal-Think for Strategic Studies held the annual meeting of its general assembly to discuss the administrative and financial reports and review the next annual plan at its headquarters in Gaza City.  The meeting was attended by Pal-Think's 10 contributors and Mr Ayman Al- Khaldi, the director of the Corporate Oversight and Audit Service in the Ministry of National Economy. Besides, Mr Hamdi Al-Absi, who works in the same office at the Ministry of National Economy.
The meeting was opened by Mr Omar Shaban, the founder and director of Pal-Think for Strategic Studies, who welcomed them and wished for the safety of all during the difficult conditions that the entire world is experiencing, especially in the light of the outbreak of COVID-19. He also emphasized the role of the Pal-Think in enriching, promoting and encouraging debate, dialogue and reflection on issues of concern to the present and future of the Palestinian people.
Mr Omar stressed that, through Pal-Think's activities and projects, they had promoted cooperation and partnership among institutions from all Palestinian governorates by supporting and financing inter-governorate initiatives. He also pointed out that Pal-Think paying close attention in investing young people by strengthening and developing their research capacities, bringing their perspectives closer together and enhancing their language of dialogue.
Mr Shaban also provided a summary of the organization's activities during 2020, particularly in the area of promoting a culture of non-violence, community reconciliation and national dialogue, as well as strengthening the research skills of young people and promoting partnership between different institutions in Palestinian governorates.
The financial report was read out by the financial investigator Al-Waffa Financial Consulting and Auditing Company. The financial and administrative reports for 2020 were approved, the members of the Board of Directors have got a fiscal clearance. Besides, an external auditor was elected for 2021, in the presence of Mr Ayman Al-Khaldi and Mr Hamdi Al-Absi of the Corporate Oversight and Audit Service of the Ministry of the National Economy.
It should be noted that Pal-Think for Strategic Studies is an independent Palestinian community research institution licensed by the Registrar of Companies of the Palestinian National Authority Ministry of Economy since March 2007, working on important national issues at the local, regional and international levels, as well as investing in the youth category and enhancing their abilities and skills.