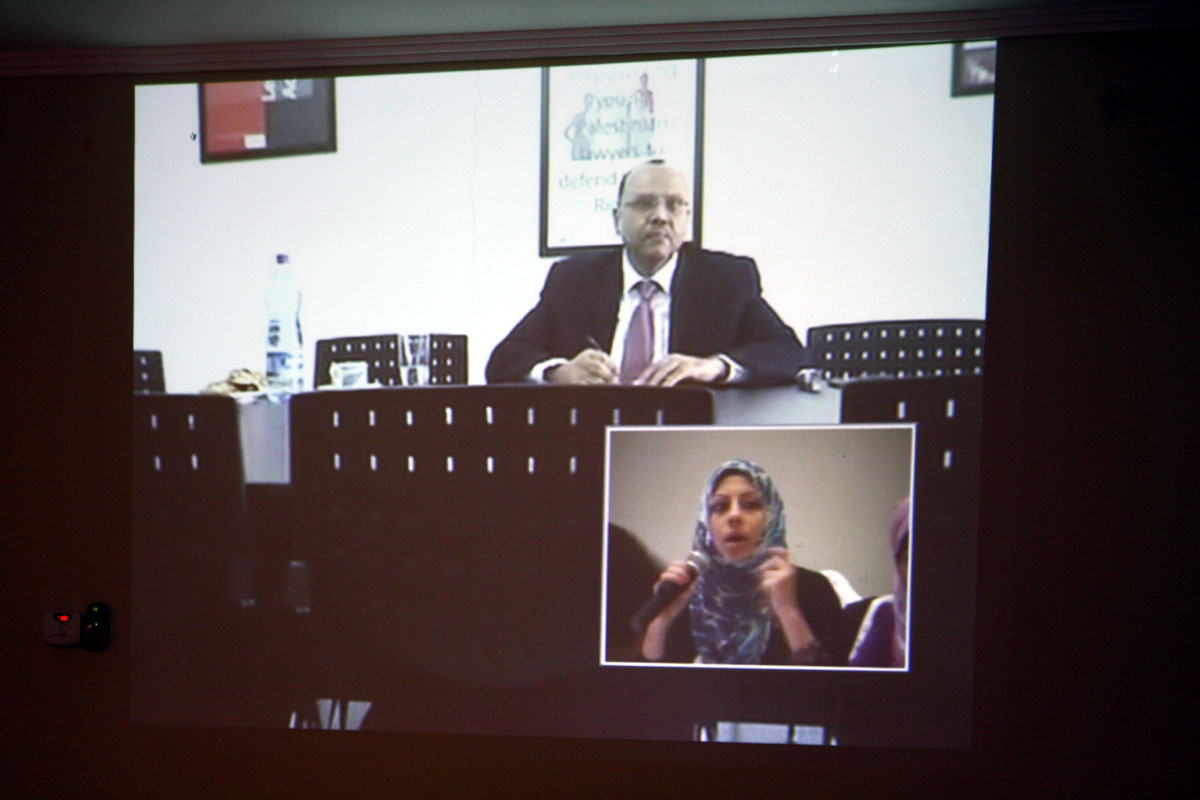 Gaza, Thursday- 21/7/2011
PalThink hosts the Egyptian ambassador to the PA via video conference from Ramallah. The Ambassador promised more improvements on Rafah crossing and stated that Egypt does its best to prevent a new Israeli military operation against Gaza.
His promises came through the second session of "Face the Public Program" that was launched by PalThink for Strategic Studies in cooperation with Friedrich Ebert Stiftung (FES) entitled " The Developments in Egypt and its Impacts on the Palestinian and Regional Situation".
Dr. Yasser Othman, the Egyptian ambassador, referred to the hard and complicated period of transition which the Egyptian face after the January 25 revolution stating that the true change has not occurred yet, and the stability of the Egyptian foreign affairs depends on the next elections. He stated some of the challenges which Egypt confronts currently, some of which are:  the division of the Sudan and its continuous crisis, the collapse of Libya, the circumstances resulted from the Arab spring, the challenges in relation to River Nile and the emergence of radical Israeli governments.
He said that the Palestinian and Egyptian situations are highly connected and confronting a difficult and dangerous circumstances. He denoted to the Egyptian efforts exerted for supporting the Palestinian cause after the revolution. " Egypt has been working on preventing any Israeli aggression against the Palestinians", Othman said.
In respect to the Palestinian reconciliation, he said,"  Signing the reconciliation treaty is a great step, there is an awareness that delaying the reconciliation caused a kind of frustration to the Palestinians… the reconciliation requires time and talks. It is not a matter of inflexible wording, it's a matter of confidence and cooperation. The reconciliation does not only means signing a treaty, but also unifying the visions and denouncing exclusion".
He also highlighted the Egyptian support for the recognition of a Palestinian state next September denoting that Egypt is exerting efforts on all levels for the success of this step.
As regards Rafah crossing, he stated that Egypt is fully aware of the situation on the crossing asserting that the current difficulties refer to regulatory issues related to the instable security status in Egypt. He said that the main regulatory issues on the crossing is that the absence of the national security body which used to run the crossing. He talked about the problem of the lists of people banned from traveling, and that they are working on a mechanism for refining these lists on objective and professional basis, saying that this process will base on a bilateral cooperation between Egypt and the Palestinian territories.
On their part, the participants focused on the issues of pushing the reconciliation forward, and easing the suffering of the Palestinians on Rafah crossing.
It is noteworthy that Egypt has opened Rafah crossing, the only outlet, before the movement of the Palestinians, but this movement is still limited. Palestinian travelers say that they face a lot of difficulties and restrictions on the crossing.