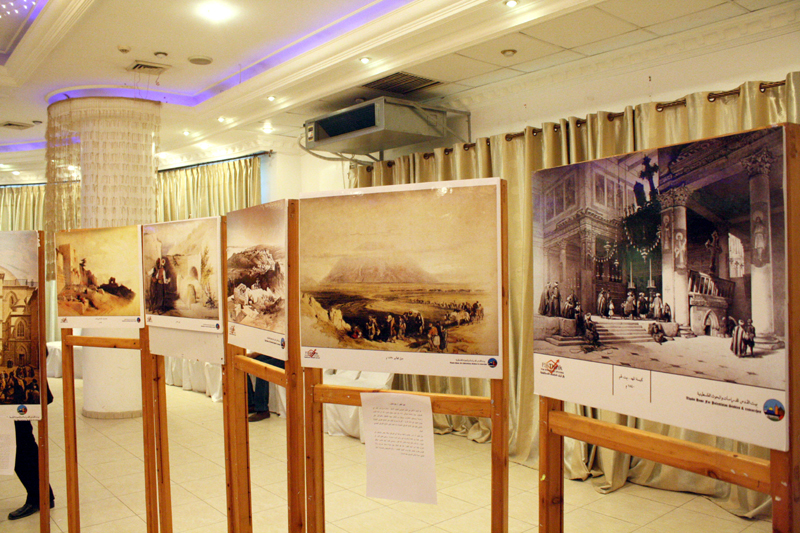 The Youth Forum for Unity and Tolerance at Pal-Think for Strategic Studies, and in coordination with Al-Quds House For Palestinian Studies, organized a unique photo exhibition entitled?: "Palestine Through The Eyes of Orientalists" A collection of 40 pictures of rare orientalist paintings of Palestine, from the 17th and 18th centuries, were exhibited at one of Gaza's hotels. The exhibition included paintings historic places around the holy land, including Al-Aqsa Mosque in Jerusalem and Christian churches in the city of Bethlehem, and highlighted the aspects of Palestinian life in the past. They also reflected clearly the historic character of Palestine, its cities and the political, economic, geographical and religious atmosphere during that period; a period that seemed to be felled with culture and civilization.
The exhibition attracted a large number of visitors, especially the youth who were amazed and attracted by the paintings which viewed a historic side  that was unknown to many of them. Meanwhile, the importance of these paintings lies through the fact that they are visual documents documenting the atmosphere of co-existence and religious tolerance between Christians and Muslims throughout history.
Pal-Think's goal from organizing this exhibition was to try to bring the Palestinian youth closer to the history of their culture, especially in  these curtail times, where youth began to feel, in recent years, frustration, distress and the desire to emigrate as a result of what is going on around them, and the difficult situation they live.