Youth
In a meeting that gathered the majority of youth initiatives in the Gaza Strip: Formulation of Youth Network to advocate and lobby for the Reconciliation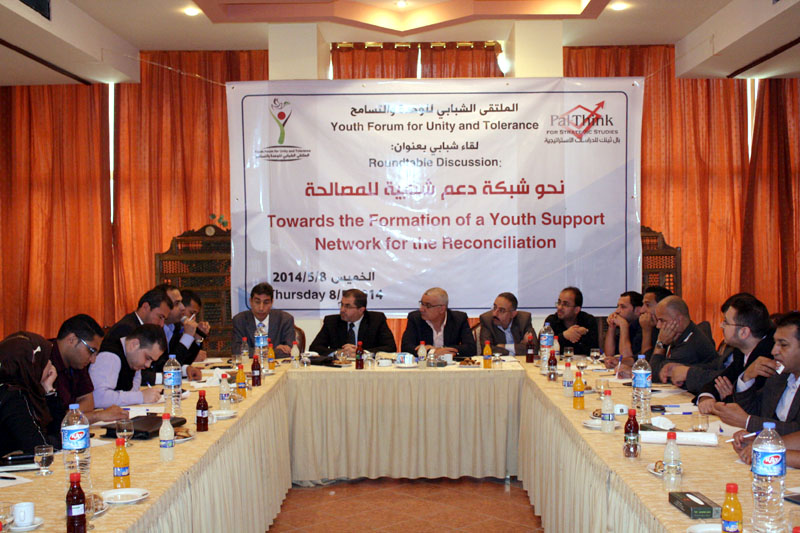 Gaza:
Attended by different groups of students, young activists, public and academic figures, and representatives from civil society organizations, the Youth Forum for Unity and Tolerance, at Pal-Think for Strategic Studies, organized a brainstorming session entitled "Towards Forming a Youth Support Network for the Reconciliation." More than 65 people from Fatah and Hamas movements, and active youth initiatives such as 15th of March Youth Movement, the Youth Advisory Council and many others, have participated in the session that aimed at discussing the mechanisms to enhance the national reconciliation agreement, and the role of youth in supporting all efforts to accelerating the implementation of the agreement.
Careful optimism was noticed among the participants, mainly the youth, about the implementation of the latest reconciliation agreement that was signed by Fatah and Hamas movements last month. In the meantime, some of the participants have showed fears that the agreement will not be able to restore social cohesion among Palestinians. Throughout the past seven years, 2 agreements have failed to witness the light of success, while rivalry has deepened among Palestinians; leading to mutual recriminations, public accusations, defamation and allegations of treason. Thus, tremendous efforts are being spent these days by youth activists and civil society organizations in order to restore trust and coherence among the Palestinian people to ensure the success of the reconciliation agreement this time.
From his side, Director of Pal-Think, Omar Shaban, emphasized during the discussion, the important role of youth in promoting the principles of reconciliation within the community and among its members, as well as the need for having a unified and strong young representation to support the agreement and not allowing its failure again.
Participants agreed that certain measures should be taken on the ground, by all members of society, and mainly by young people, in order to create pressure on Fatah and Hamas to accelerate the implementation of the terms of the reconciliation agreement. Among the most important recommendations that were agreed on, were the followings:
Holding national conferences and develop recommendations and mechanisms of action that can contribute to the development of youth's enrollment in society by proposing policies and practicing public pressure on decision-makers.
Forming a unified and a strong youth support network that aims at promoting community reconciliation, and working to monitor the implementation process of all the terms of the signed agreement between the parties.
The need to reject the culture of violence and instead to promote for the culture of dialogue among young people despite their different affiliations.
The importance of Preparing youth for for the next election by nominating youth cadres to run for elections and occupy influential positions in society.
The need to forming pressure campaigns, such as petitions, sit-ins and marches, to defend public freedoms and civil rights.
The need to abolish all laws and regulations that violate human rights, People's freedoms, and the freedoms of all intuitions in practicing their work legally.