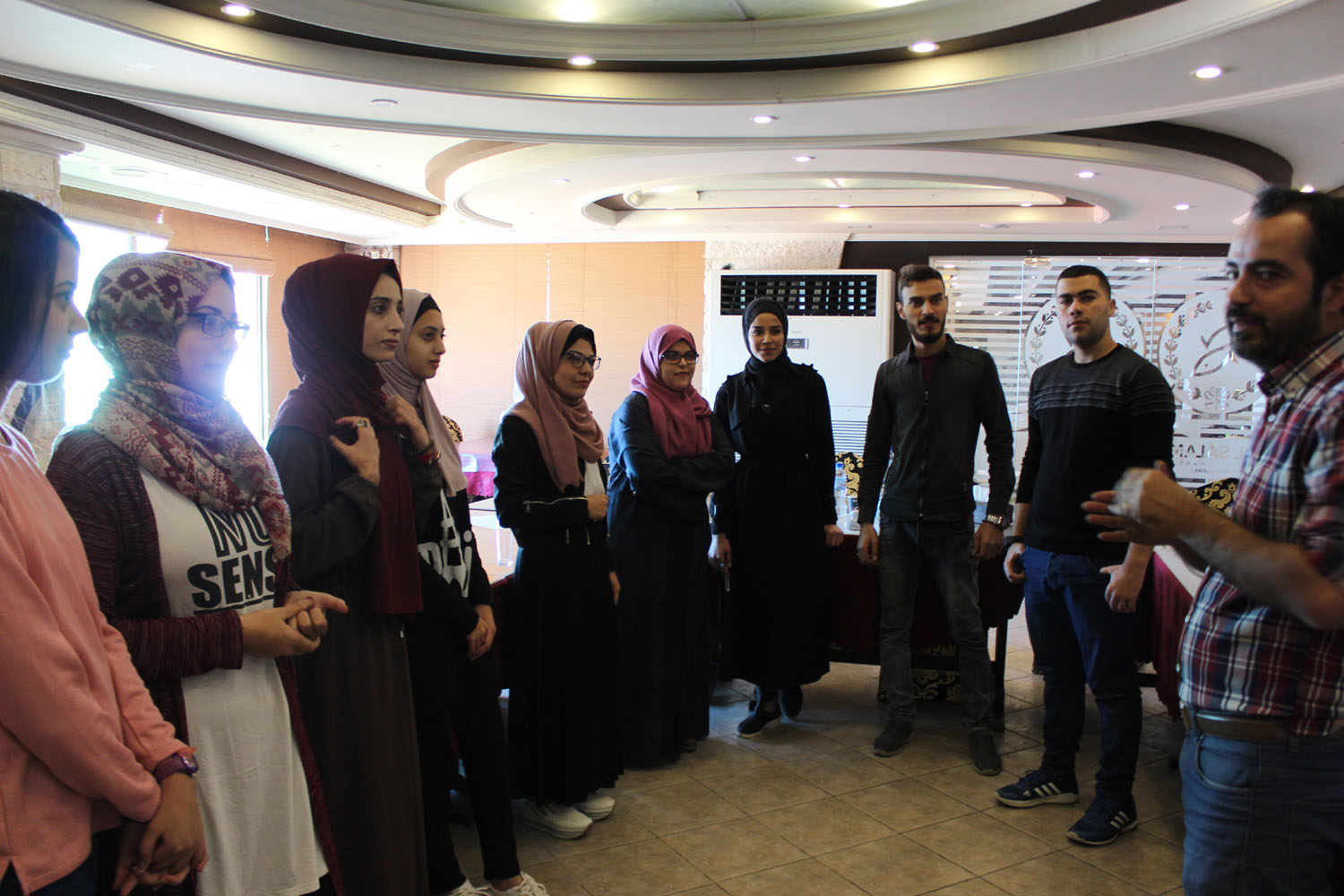 Pal-Think for Strategic Studies launched a training program titled "Social Media and Personal Branding Skills" within the Youth Political Club (YPC) project funded by the National Endowment for Democracy (NED). The project aims at building the capacities of 25 Palestinian youth selected carefully, and train them on strategic thinking and community service.
The training module was opened by Omar Shaban, Director of Pal-Think, where he welcomed the trainer, Mohammad Abu Alkomboz, and the YPC members. He highlighted the role of Pal-Think in actively and consistently contribute to the development of the Palestinian youth in strategic thinking and reflecting on their own skills and backgrounds. He also said this training was crucial in mobilizing social media tools in finding audiences around the world for a variety of objectives.
Abu Alkomboz then thanked Pal-Think for its unique approach to the Palestinian youth, especially through utilizing social media. He talked about the importance of building a personal brand both for individuals and advocacy campaigns to present them in a way that attracts audiences of interest.
The first day of the training addressed several interactive exercises during which the trainees worked in teams emphasizing teamwork. They also worked on building their digital identities to promote themselves professionally on social media platforms.
Amjad AbuKumail, 22, said in gratitude to Pal-Think "We are in need for this training on a personal and society level. It is special, unique, and informative. We feel more aware and we can now view social communication from a different perspective." Amjad, an engineering school graduate, added "The YPC trainings are developing our communication leadership, and marketing skills, and will help me to achieve my goals."
While Jumana Abu Sinjer, 19, said "The training is extremely useful, especially the part about digital identity, because I am interested in publishing on my Instagram feed, this training will grant me skills and knowledge I would need to reach additional audiences." She added, "The training environment with Pal-Think is positive, and this project -the YPC- is building changemakers and serves the society."
The YPC project will extend to April 2020 and will have covered a variety of activities programmed to found a human infrastructure of change. It started with a series of lectures on law, history, democracy, and other topics of priority to Palestinians. Lectures are then followed by a series of training modules in the following topics: Communication and Leadership Skills, Social Media and Personal Branding Skills, Conflict Resolution and Community Peacebuilding Skills, Policy Writing Skills, and Lobbying and Advocacy Campaigning Skills. The capstone project for the YPC members in this project will be planning and implementing community initiatives to apply their skills in giving back to the community.