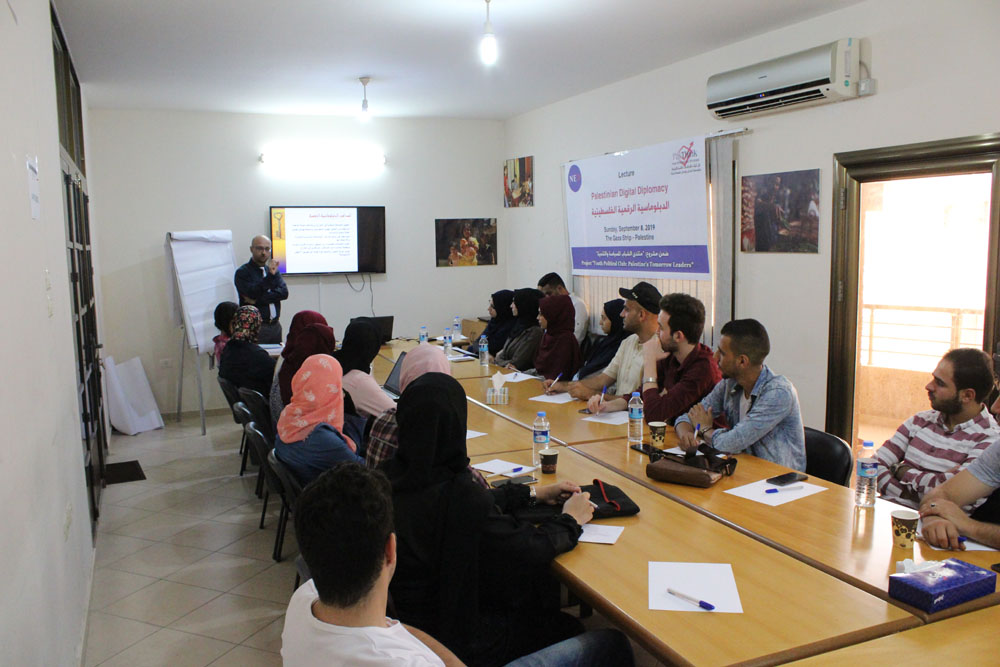 9 September, 2019
Gaza City— Pal-Think concluded the ninth seminar of the project: "Youth Political Club: Palestine's Tomorrow Leaders" implemented in partnership with the National Endowment for Democracy (NED), the lecturer is Dr. Sami Akkeila, PhD in Media and Journalism.
The discussed topic is "Palestinian Digital Diplomacy" the seminar took place at Pal-Think's hall on Sunday, September 8, 2019 and lasted for two hours and a half 10:00-12:30.
The lecture aimed to discuss digital diplomacy and improve the club members' knowledge and understanding to become more aware about electronic diplomacy techniques, thus reflect that on community work.
Moreover, the lecture shed spotlight on the definition of digital diplomacy, the goals, factual comparisons between the Palestinian and Israeli digital diplomacy in figures, triggering questions in terms of the real situation of where the Palestinian digital diplomacy is, displaying the British, French and Danish experiences in regard to the international diplomacy and in what fields they left impact.
In addition to that, the participants learnt about the viral marketing and the colossal differences that occurred between the years 2017 to 2019 concerning the engagement of the public in the Palestinian and Israeli websites; all in numbers.
Participants discussed the impact of the Israeli use of digital diplomacy on the Palestinian society, potential methods to uplift the use of digital diplomacy, questioning if there is a real presence for the Palestinian use of digital diplomacy and the role the people of Palestine has to play in order to encourage the public's and youth's use of the digital diplomacy.
In conclusion, the lecture was effectively pivotal for the participants who already have a deep comprehension of the real situation in Palestine and the conflict with Israel and have thus built on their knowledge for the action of the next step.