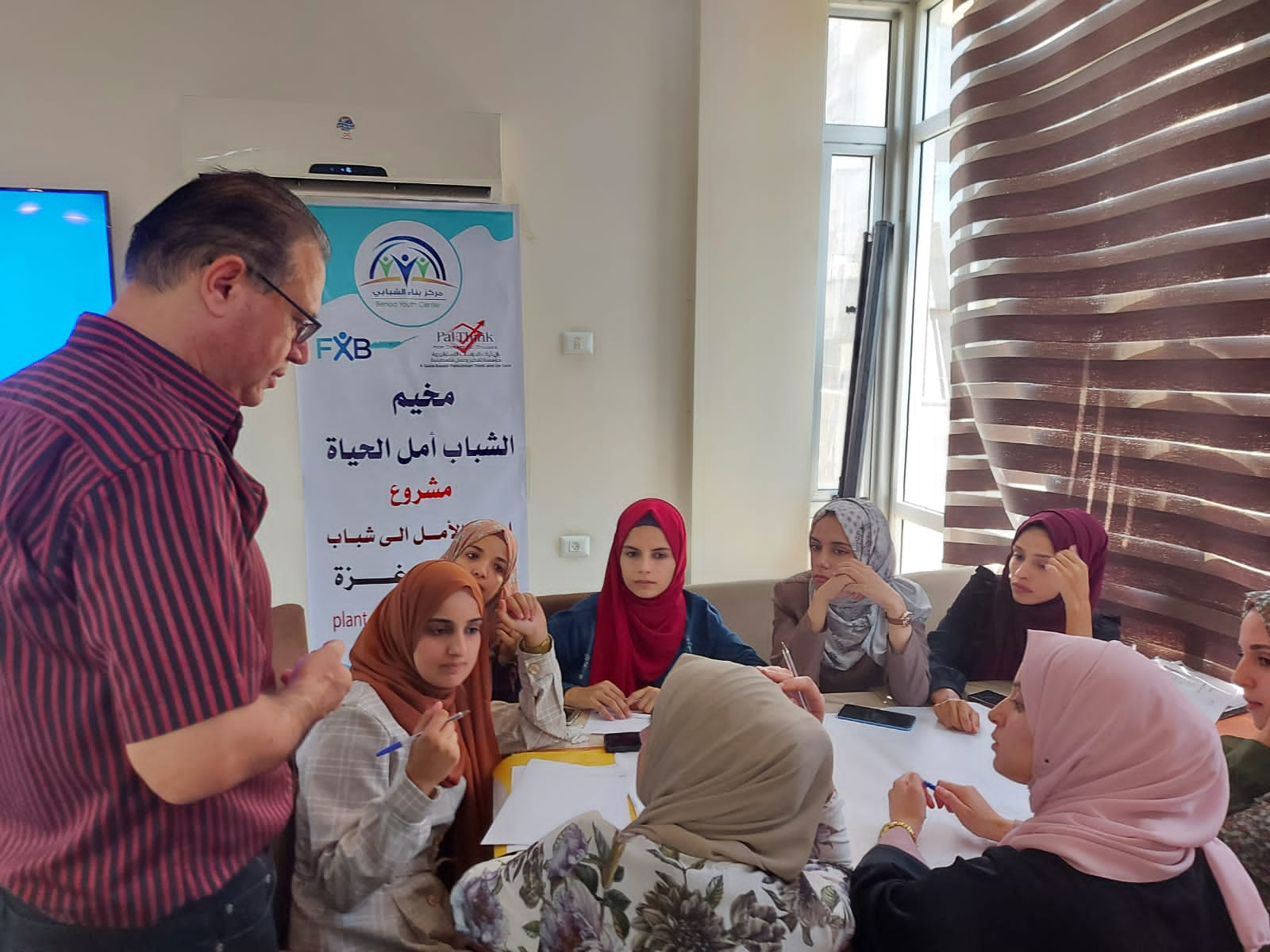 Bena'a Youth Center opened the "Youth is Hope of Life" camp, in partnership with Pal-Think for Strategic Studies and FXB. The camp is part of the "Plant Seeds of Hope in Gaza Youth and Children" project, in the presence of Mrs. Sally Al-Sammak from Pal-Think and Chairman of the Center's Board of Directors Mr. Awni Abu Ismail, and 20 young participants from Khan Younis governorate.
Mrs. Sally Al-Sammak spoke about the importance of the project, which aims to provide free spaces for Gazan youth for psychological entertainment, especially since the project comes as an emergency response after the last attack on the Gaza Strip in May 2021. It also aims to qualify 20 young women and men to implement a community initiative that reaches the largest possible number of beneficiaries and achieves the goal of the camp in light of the pressures generated by the attack.
The first-day deals with training on writing initiatives and how to choose initiative ideas, linking them with the community and the youth group, and the conditions that must be met by the initiative. This camp continues for five days to complete the camp with the implementation of an initiative by the youth who attended the training camp after coming up with its idea through them.
It was mentioned that this camp will focus on psychological support and entertainment for the participating youth, and rehabilitating them in how to prepare initiatives, in addition to focusing on extracurricular activities and effective community participation, and strengthening the personality of the initiators to be able to reach the community and alleviate psychological pressures on them, in addition to coexistence meetings, where the camp comes  within the activities of the Bena'a Youth Center after the last attack, where it implemented many activities and programs aimed at relieving the pressures of all social groups, and psychological support for them.