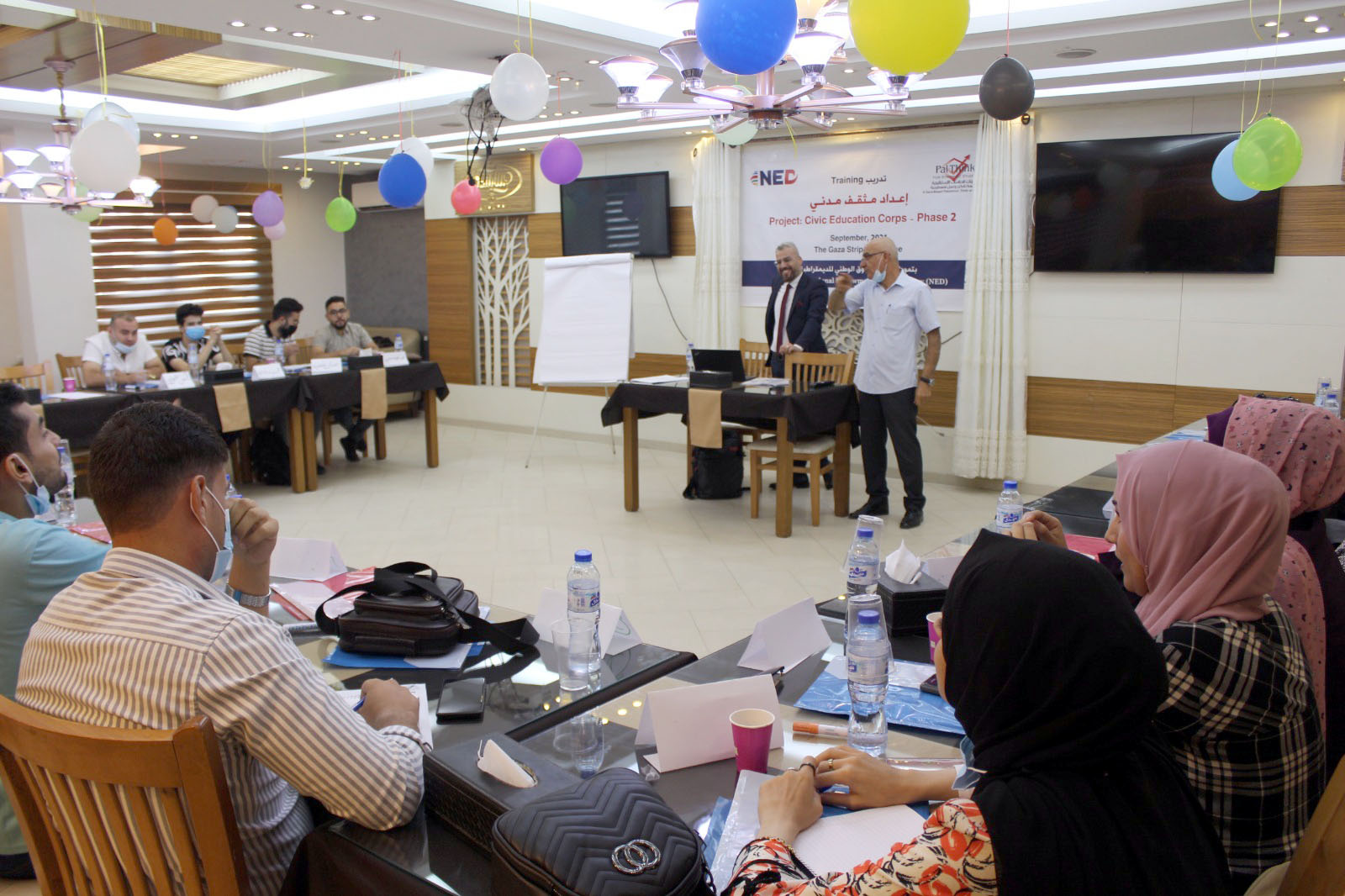 Among the strategic objectives adopted by Pal-Think for Strategic Studies to spread the culture of democracy, human rights, and civic culture among university students and graduates; Pal-Think for Strategic Studies inaugurated the second phase of the "Civic Education Corps" project funded by the National Endowment for Democracy (NED). Which aims to create a young generation that believes in the principles of democracy and concepts of human rights in the Gaza Strip and to find young people who can disseminate these values ​​in their society, and to enable Palestinian youth to play their role in participating in decision-making, and to contribute to making positive change.
The Director of Pal-Think for Strategic Studies, Mr. Omar Shaban, was opened the meeting, he welcomed the attendees, thanking their commitment and interest in training, and confirmed that Pal-Think pays great attention to the youth category in Palestinian society, as they are the most capable of societal change, especially the Palestinian society is considered a youthful society. He added that this training comes as part of a series of activities and projects implemented by Pal-Think to disseminate and strengthen the culture of democracy, dialogue, and resolve conflict in peaceful ways, also empowering young people to write research papers. In her turn, the project coordinator.
Ms. Sally Al-Sammak, spoke and indicated that this project comes as a continuation of the first phase of the Civic Education Corps project, she added that this project will last for two years, during which two training courses will be implemented targeting a group of university students and fresh graduates, and then allowing them to transfer what they have learned to their peers through the implementation of several awareness-raising meetings in cooperation with civil society institutions and universities. In addition to preparing a set of research papers that discuss issues of democracy and human rights, as well as other activities to ensure well dissemination to democracy concepts. In the same context.
The trainee Zainab Al-Astal said, "After I read the announcement of the training program, I rushed to register in order to gain knowledge and information related to issues of democracy and human rights and to write research papers, especially since this information is missing in universities because educational curricula in universities do not address these issues and topics except marginally, so I hope to get this information in order to pass it on to the community around us".
The trainee Abdullah Hussein added, "I was a participant in the previous phase of the project and participated in the implementation of awareness-raising meetings and radio episodes, and I benefited and learned a lot, and I was keen to join the project and participate in its activities in the current stage in order to accumulate knowledge and information that we learned during the previous project, especially since the trainings in the current project are advanced and more specialized, and the activities are also diverse and contain many skills that are needed in various areas of life". It is mentioned that the training program will last for seven training days, during which the target group will be trained on international human rights law and the Palestinian situation, standards of democracy under the Palestinian regime, lobbying and advocacy skills in issues of democracy and human rights, creative thinking, and research writing skills in issues of democracy and human rights, and presentation and communication skills.