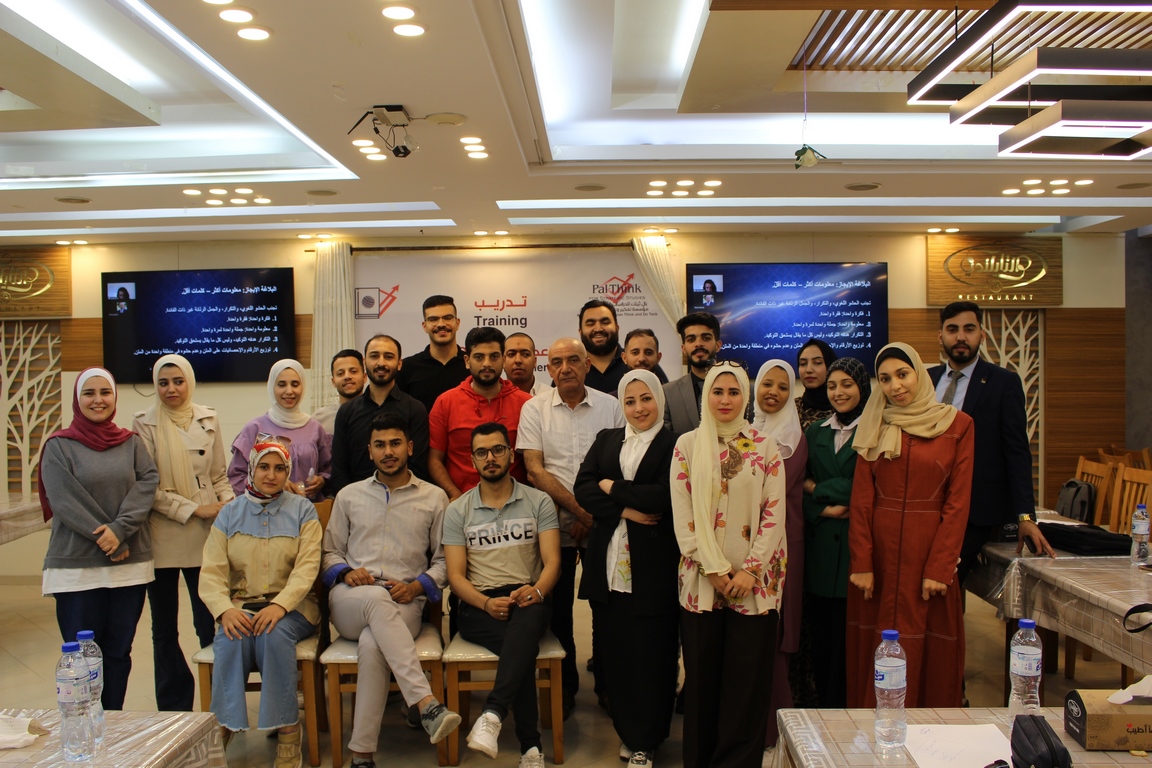 PalThink Strategic Studies has successfully concluded a comprehensive training course for trainers (ToT) in the field of democracy and human rights. The training course was a part of the "PalThink Academy for Democracy and Human Rights" project, Phase II, supported by the German Federal Foreign Office's funds by ifa's Funding Programme zivik.
The training was inaugurated by Omar Shaban, Director of PalThink, who emphasized the organization's commitment to enhancing the capabilities and awareness of young individuals regarding democracy and human rights. He highlighted PalThink's adoption of innovative training methodologies, such as the facilitator and trainer approach, to effectively impart knowledge.
The training program was divided into four distinct phases. The initial phase encompassed theoretical discussions and an exploration of the social context in which the participants would operate.
Legal trainer Abdullah Sharshara commenced the course by elaborating on democratic principles, human rights, and relevant Palestinian legislation. Trainer Osama Murtaja further delved into topics such as political participation, Palestinian reconciliation, and the potential of electoral mechanisms. Trainer Tahani Qassem presented valuable theoretical insights into the realities faced by Palestinian women in society.
The second phase of the training concentrated on equipping the participants with digital and media advocacy skills. Under the guidance of trainer Mustafa Al-Mallahi, the trainees gained proficiency in leveraging social media platforms and producing content that supports democracy and human rights.
Mahmoud Abdel Hadi then focused on fostering creativity through community initiatives, encouraging the expression of youth ideas, and crafting initiatives for community awareness to drive democratic influence and change.
The third phase of the training emphasized the preparation and execution of training sessions and dialogues. Trainers Yahya Qaoud and Nidaa Owaina covered essential presentation skills, the fundamentals of designing training plans, creating engaging content, conducting research in the digital information sphere, and utilizing various tools and resources for effective presentations.
The final phase of the training course honed communication skills, preparing the trainers for public speaking engagements and camera appearances. Trainer Samah Safadi coached the participants on recitation techniques, effective audience engagement, and maintaining a professional demeanour during workshops and sessions.
To complement the empowerment of youth and refine their practical skills in promoting the culture of democracy and human rights, PalThink will conduct a series of 60 workshops in different governorates and cities across the Gaza Strip. These workshops are part of the "PalThink Academy for Democracy and Human Rights – Phase II" project, further advancing the organization's commitment to fostering a democratic society.