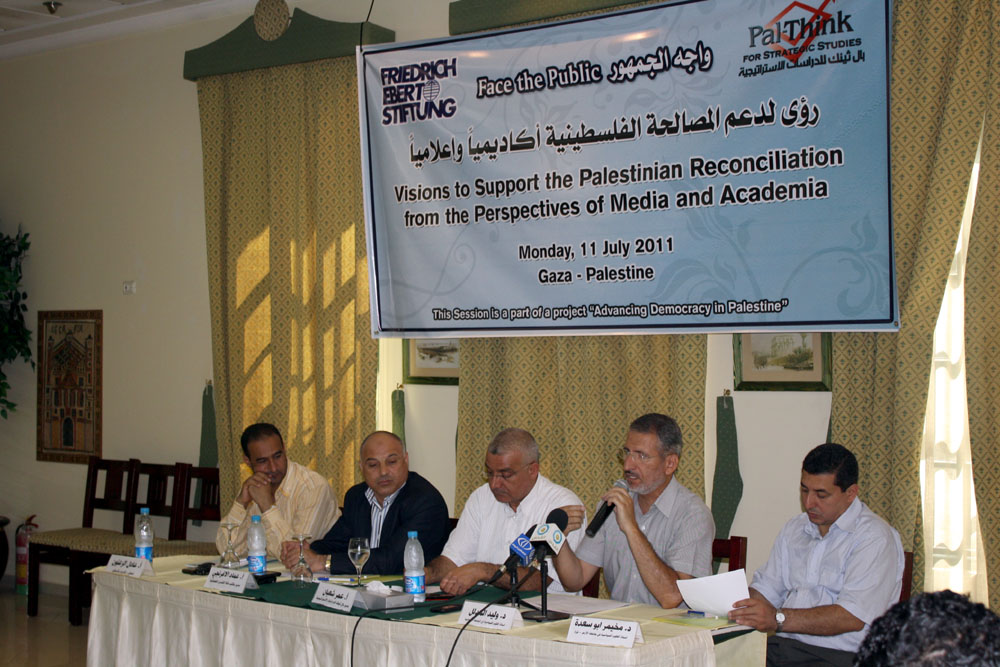 Gaza, Monday-11 July 2011, Civil society activists, academics and journalists highlighted the role of media and academia in supporting the reconciliation.
The workshop aimed at creating a discussion on visions to support the Palestinian reconciliation from the perspectives of media and academia. This workshop is deemed the first session of "Face the Public Program" that was launched by PalThink for Strategic Studies in cooperation with Friedrich Ebert Stiftung (FES), as a part of the project "Advancing Democracy in Palestine". This project is supplementary to the 2010 project which aimed to achieve the same purpose; reinforcing democracy.
In respect to academia, Dr. Waleed Al Mdalal, professor of political science at the Islamic university, stated that universities have lost their independency for the interest of the political parties and no longer play effective role in the Palestinian society. He denoted that universities need to regain their independent identity and decisions,  and work away from the political theater. Focusing on the visions that may participate in improving the role of universities on the societal level, he showed up the necessity for: 1) establishing a general union for the universities' students councils. 2)  avoiding involving universities in the political differences and incitement. 3) operating the span of control and responsibility. 4) bridge the gap and build network among universities.
In the same context, Mukheimer Abu Saada, professor of political science at Al Azhar university, said that the reconciliation is stumbled due to the Israeli and American intervention in the Palestinian domestic issues, and the dispute between Hamas and Fatah. He asked academics and intellectuals to play a vital and main role to create positive and constructive changes in the issue of the reconciliation and the structure of the society. The universities shall introduce a concrete and authentic model for the societal reconciliation and represent an environment for tolerance and acceptance, Abu Saada said.
As regards media, Emad Al Efrangy, executive of Al Quds channel, stated that the Palestinian media should go deep in the issues in relation to the Palestinian cause and become an independent entity away from libel, mutual accusations and false news. He pointed out some visions that share in developing media such as: get rid of the political sovereignty on media, control criticism in a way that seems reasonable and true. It's important to avoid focusing on the figures whose actions and positions provoke tensions, he added.
For his part, Adel Al Zanoun, correspondent of Palestine TV, said that having a partisan media is not a shame, but it should follow the morals of work. He called for ending the culture of incitement and hatred, gather the efforts and get rid of dependency towards achieving the reconciliation.
It is worth mentioning that the Palestinian parties signed a reconciliation treaty last April, but an impasse has occurred recently because of a dispute about electing the prime minister of the interim government.