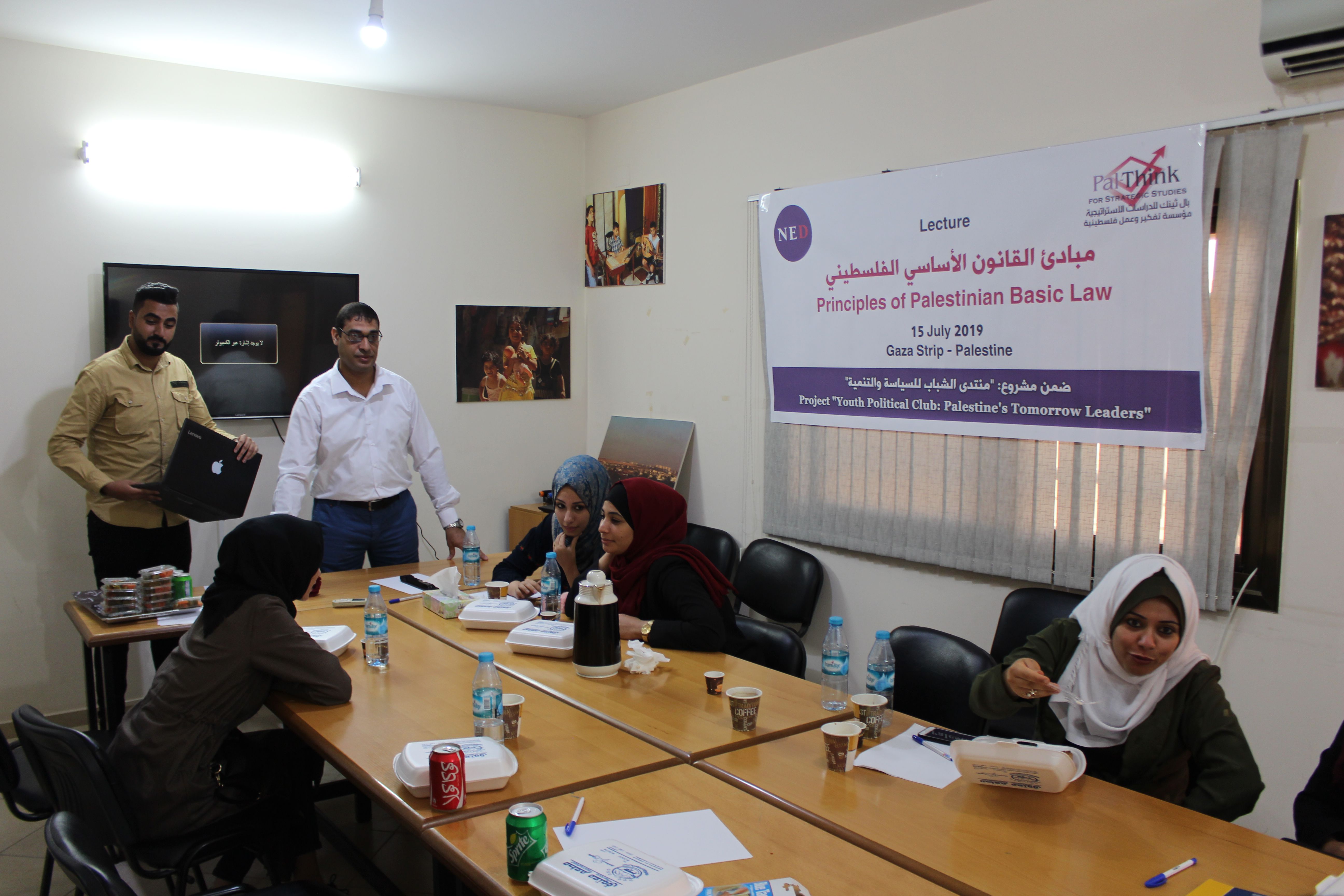 15 July, 2019
Pal-Think concluded the second seminar of the project: "Youth Political Club: Palestine's Tomorrow Leaders", in partnership with the National Endowment for Democracy (NED), the lecturer is Mr. Mohammed Atelbani and the topic is "Principles of Palestinian Basic Law" the lecture took place at Pal-Think's hall on the 15th of July, 2019 and lasted for three hours 10:00-13:00.
The seminar's objective is to incorporate the youth-thought leaders with the proper knowledge about the legislation which is currently enact in the Palestinian national homeland and increase the legal awareness of the target group in relevant to the articles of the Palestinian Basic Law and its constitutional principles, thus contribute to the development of public rights and freedoms, good governance and democratic life.
Mr. Altalbani is a researcher and a legal activist. In the first part of the seminar, he discussed several ideas including: the concept of the Palestinian Basic Law, its articles, development and role. Also, the methodology of amending and adjusting constitutional rules in addition to constitutional life after and before the establishment of the Palestinian National Authority.
In the second part, the lecturer discussed the constitutional principles contained in the Palestinian Basic Law including: the principle of separation of powers, smooth transfer of power and public sovereignty, protection of citizens political, social, economic and cultural rights. Moreover, discussing the principle of constitutional supremacy, independence of the judiciary, and rule of law.
Last but not least, the session was colored by active participation and discussion of the 25 team members. A reflection activity was assigned to a group of 5 members, where each will take one article of the Palestinian basic law and compare it to the Tunisian Constitution Principles.